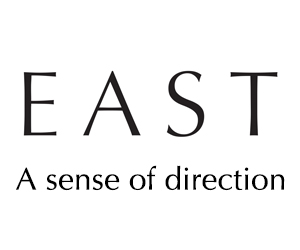 This is the online store from the high street chain. EAST designs and sells a unique range of clothing, jewellery and accessories for women. EAST is loved for their hand crafted embroideries, wonderful evocative prints and vibrant colours.
Follow East to get news updates and products on your
homepage
.
East is being followed by 1 person.
Follow East
UK Delivery Details: STANDARD DELIVERY
£3.95 - England, Scotland, Wales, Northern Ireland
£3.29 - Channel Islands (excludes VAT)
We use Royal Mail to deliver this tracked standard delivery service. We aim to dispatch orders on the same day if received before 2pm and you will receive your parcel within 3-5 working days.

Standard delivery is free for orders over £100. Next day delivery option also available.

Free delivery to store.

Returns Information: Free UK returns.



Free UK Postage on some orders.
Worldwide Delivery
Free returns
Free returns to store
Review of East in Manchester
new
Posted by The Universe Ends on Sunday, 11 Mar 2018.
When I went to this school 2 black men jumped out and started throwing chicken at me and watermelon.
Review of East in Manchester
Posted by Callum Collins on Monday, 26 Feb 2018.
worst school in manny prefer cedar mount any day some teachers cant even teach absolute trash #helpallstudentswitheducation 4 d win do you know d wey
Review of EAST Bath in Bath
Posted by Tony Pass on Wednesday, 07 Feb 2018.
Currently up to 50% off closing down sale so get there quick!
Review of East in Manchester
Posted by football boy on Thursday, 01 Feb 2018.
Don't send your your children in this school because the education of the teachers is bad they don't have website to home work the reception hospitality is bad they don't have Good treatment my daughter she is not happy
Review of East in Manchester
Posted by Bradley Maphosa on Friday, 26 Jan 2018.
Worlds worst school the teachers are in educated glad I left that school a beg don't send your children to that school if you don't want them to end up on the streets coz they got no education plus the headteacher looks like a bean boozled
Review of East in Canterbury
Posted by Sammy Herring on Wednesday, 17 Jan 2018.
Great train station in terms of access with a useful drop off point, just wish they had more trains going via Canterbury East, as most go via Canterbury West.
Review of East in Canterbury
Posted by TalynFilms on Friday, 22 Dec 2017.
so much better then West, also hardly ever has staff so you get a free train.
Review of East in Manchester
Posted by muppet show on Thursday, 21 Dec 2017.
we wil soon b leaving this skool and if I have kids I will not send my child there, the skool is fake, ofsted turn up all the techers are about when ofstad are not here the kids like me go mad, also mr hutchings passed away over a year and a half ago and stil no little plack to say thankyou rip. nothing its a discraceful. today Christmas diner what a joke before it used to be everybody kids,staff and some visitors all having diner together not anymore, don't go there you must be mad. rip mr hutchings sad x
Review of East in Canterbury
Posted by Gemma Lacock on Sunday, 29 Oct 2017.
Very close to city centre literally 5 minutes walk from the centre of Canterbury
Review of EAST Chester in Chester
Posted by Peter Jones on Tuesday, 03 Oct 2017.
A street with a abundance of coffee bars, and trendy restaurant's.
Read all 27 Reviews of East
Add your own review:
East has 27 stores in the UK in our database.
More details
Amersham
: EAST Amersham, 7 The Broadway, Amersham
More details
Bath
: EAST Bath, 2 Milsom Street, Bath
More details
Bury St Edmunds
: EAST Bury, Bury St Edmunds, Bury St. Edmunds
More details
Cambridge
: EAST Cambridge, 62 Sidney Street, Cambridge
More details
Canterbury
: East, Fenwick, St George's St, Canterbury
More details
Cheltenham
: East Ltd, 94 Promenade, Cheltenham
More details
Chester
: EAST Chester, 42 Bridge St, Chester
More details
Chichester
: EAST Chichester, 14 South Street, Chichester
More details
Cirencester
: EAST Cirencester, 1 Market Place, Cirencester
More details
Covent Garden
: EAST Covent Garden, 16 The Piazza, London
More details
Dorchester
: EAST Dorchester, 18 South St, Dorchester
More details
Durham
: EAST Durham, 73-75 Saddler Street, Durham
More details
Guildford
: EAST Guildford, 69-70 North St, Guildford
More details
Harrogate
: East Ltd, 18 James Street, Town Centre, Harrogate
More details
Haslemere
: EAST Haslemere, 36 High Street, Haslemere
More details
Leamington Spa
: EAST Leamington Spa, 49 The Parade, Leamington Spa
More details
Lymington
: EAST Lymington (Inside Elliots of Lymington), 44-46 High Street, Lymington
More details
Manchester
: East, 18a, The Triangle, Exchange Square, Manchester
More details
Market Harborough
: EAST Market Harborough, 28 High Street, Market Harborough
More details
Newcastle-upon-Tyne
: East, Eldon Square, Newcastle upon Tyne
More details
Norwich
: East Ltd, 32 London Street, City Centre, Norwich
More details
Reigate
: EAST Reigate, 60-62 High Street, Reigate
More details
Salisbury
: EAST Salisbury, 55 New Canal, Salisbury
More details
Stratford-upon-Avon
: EAST Stratford Upon Avon, 12 Bridge St, Stratford-upon-Avon, Stratford Upon Avon
More details
Tenterden
: EAST Tenterden, 35 High Street, Tenterden
More details
Truro
: East, 96 Pydar Street, Town Centre, Truro
More details
York
: East Ltd, 13 Davygate, City Centre, York
Products from East
User Opinions of
East
Average guest rating:
(

7

votes).
Average review rating: (
27
votes).
Overall average rating:
(34 votes).
Click the guest rating to register your rating or, even better,
write a quick review
.
Similar sites
Comments
comments powered by

Disqus
Found a mistake? Let us know using
this form
or leave a comment above.
Reviews of East
Special Offers for East