Superdry
No products added yet.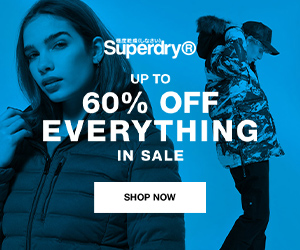 The Superdry brand has attained international recognition thanks to its wide appeal, capturing elements of both "preppy" and streetwear designs with a subtle combination of vintage Americana and Japanese imagery. Superdry offers T-shirts, jeans, sweaters, joggers, hoodies, jackets, shirts, rugby shirts, polo shirts, footwear, as well as bags and accessories. Superdry currently has 76 UK standalone Cult and Superdry retail stores and is sold in 91 countries worldwide. Superdry has enjoyed celebrity-generated publicity from the likes of David Beckham, Zac Efron and Helena Christensen, to name but a few.
Sale Now 50% Off
Sale Now 50% Off!
Valid until Monday, 02 Mar 2020.