WRITE A REVIEW OF Superdry
Please completely fill out the form below, and we'll add your review as soon as possible.
If you would like to be able to edit your review after it is posted, please
log in
first.
Add your review of Superdry
Please try to add a review which will be helpful to other people - don't just say that you liked or did not like the site, try to explain why.
Please do not write your review just in capital letters - we won't add it!
Please be careful with the words you use - we add these reviews at our discretion and anything which may be considered offensive or libellous will not be added.
Please do not use the review system for advertising. You can add a link to your site in your profile..
If you have logged in, once your review has been added to the site you will be able to edit it.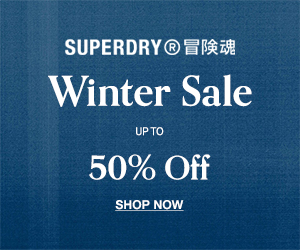 The Superdry brand has attained international recognition thanks to its wide appeal, capturing elements of both "preppy" and streetwear designs with a subtle combination of vintage Americana and Japanese imagery. Superdry offers T-shirts, jeans, sweaters, joggers, hoodies, jackets, shirts, rugby shirts, polo shirts, footwear, as well as bags and accessories. Superdry currently has 76 UK standalone Cult and Superdry retail stores and is sold in 91 countries worldwide. Superdry has enjoyed celebrity-generated publicity from the likes of David Beckham, Zac Efron and Helena Christensen, to name but a few.
3 for £45 T-Shirts
3 for £45 T-Shirts!
Valid until Tuesday, 27 Apr 2027.