WRITE A REVIEW OF Naylors
Please completely fill out the form below, and we'll add your review as soon as possible.
If you would like to be able to edit your review after it is posted, please
log in
first.
Add your review of Naylors
Please try to add a review which will be helpful to other people - don't just say that you liked or did not like the site, try to explain why.
Please do not write your review just in capital letters - we won't add it!
Please be careful with the words you use - we add these reviews at our discretion and anything which may be considered offensive or libellous will not be added.
Please do not use the review system for advertising. You can add a link to your site in your profile..
If you have logged in, once your review has been added to the site you will be able to edit it.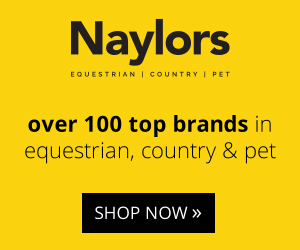 Catering for horse owners, riders and country walkers alike, our product range is extensive, with thousands of products in our catalogue. Products range from saddles, riding hats and horse rugs to riding boots, wellies and wax jackets.

Naylors offers brands such as Barbour, Joules, Hunter and Ariat coupled with our excellent customer service. All products offered are in stock and despatch the same working day.
Free Standard UK Delivery ...
Free Standard Uk Delivery when You Spend £30 or More at Naylors!
Valid until Friday, 30 Dec 2022.
10% Off New Season Dublin Clothing ...
10% Off New Season Dublin Clothing at Naylors!
Valid until Sunday, 03 Aug 2025.