SEARCH RESULTS FOR rococo chocolates
Your search for rococo chocolates returned 6 Categories and 22 Links.


CATEGORIES:
PRODUCTS:
SHOPS:
Since 1926 Godiva has been the premier maker of the fine Belgian chocolate.
Melt Chocolates offer the best chocolates in London. They are handmade fresh on the premises every day by their chocolatiers. Melt is an award wining chocolate shop based in Notting Hill and is also available from Selfridges and Harrods.
View all 9 Offers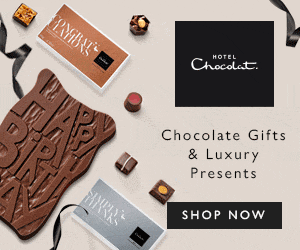 Hotel Chocolat offers the finest chocolates money can buy.
Using quality, authentic ingredients is an ethos that has been fundamental at Hotel Chocolat since the beginning and the 'no nasties' approach bans the use of additives such as hydrogenated vegetable fat and artificial colours in order to let the pure chocolate flavours and aromas through.
Hotel Chocolat Tasting Club
vouchers make great gifts.
An award winning website from Chocolate Trading Company retailing the widest selection of premium chocolates from around the world, from over 15 leading chocolatiers. All categories of chocolate are available from single origin gourmet bars to stylish assorted gift boxes and unique novelties. They have some amazing Easter Eggs and Mothers Day gift ideas.
Thorntons, the highstreet chocolate shop, also has a selection of fine wines, flowers, hampers, and other gift ideas.
Fortnum & Mason is a central London department store. It has two other branches in Japan and holds a Royal Warrant. First established in 1707 by William Fortnum and Hugh Mason, it is one of Britain's iconic brands.

At Fortnum & Mason's online store you can experience the unique shopping experience of Fortnum's London, filled with hundreds of wonderful gifts, world-famous hampers, together with food, wine and accessories.
Now that stores around the country increasingly seem to resemble each other, Selfridges is unmistakably unique. Selfridges believe that, at its best, the experience of shopping should be extraordinary, captivating and inspiring.

Selfridges offer shopping at its best, from their famous head-turning window displays to the sheer range and quality of products in-store. Where else could you find the latest in computer technology, luxurious homewares, must-have designer fashion and a feast of mouth-watering food and drink, all under one roof? And now - all on one website!
An ever increasing selection of products including toys, gifts and food available are available to buy online from this famous London store.
UK online sweet shop selling traditional, old-fashioned sweets. Find all your favourite sweets from childhood.
Flowercard is a unique way to send freshly cut flowers arranged by hand inside a beautiful art card personalised with your own unique message. Only the finest, freshest and most fragrant blooms are picked and arranged by expert florists inside each design to last for up to 2 weeks.

With a huge array of cards to choose from, in vibrant designs, filled with freesias, orchids, carnations, santini and sculptural foliage you can personalise your message with your own heartfelt words for any occasion. You can even send mini bouquet cards and exquisite arrangements in a gorgeous tin caddy, complete with lid to use as a keepsake for storing cards from your baby shower, anniversary or birthday.