Health & Fitness
CATEGORIES
Filters
Shops
We're a team of passionate specialists dedicated to creating the highest quality supplements possible. We combine proven nutritional ingredients with the highest quality omega-3 oils, creating ground-breaking products that equip you with optimal health.
ChemistDirect is the UK's largest online healthcare and pharmacy business, providing quick and affordable delivery of tens of thousands of health and beauty products, and a suite of wellbeing services including confidential consultations with in-house GPs and advice from its team of fully qualified pharmacists.
View all 9 Offers
Bringing you millions of products from thousands of sellers, OnBuy is an innovative and rapidly growing online marketplace. As a direct Amazon alternative, OnBuy delivers fantastic choice and even better value. Our low fees for sellers mean big savings for you - whether you're buying Toys, Tools or the latest in Tech!
Predator Nutrition are one of Europe's leading distributors of sports supplements, bodybuilding supplements and sports nutrition products. They have the EXCLUSIVE European distribution rights for some of the industry's most exciting brands, including Driven Sports, IForce Nutrition, Purus Labs and Quest Nutrition.
View all 11 Offers
Visit Your Health Food Shop for quality vitamins, health food supplements and fish oils. Lots of special offers.
The UK's largest and longest-established online Health and Beauty Site. Purchase all leading brands of fragrances, cosmetics and skincare. They also carry a vast selection of vitamins, health products, and niche products such as Tendskin, Nads, Carmex and much more.
Show +

Clavin Klein Fragrances
Brilliant beauty bargains at Superdrug.com! Superdrug, great products, and great prices ... what more could you possibly want? Well, how about your own, personal Superdrug, open 24 hours a day, 7 days a week? Sound good, well guess what? It's already here at Superdrug.com.
View all 24 Offers
Holland and Barrett is the UK's leading retailer of vitamins, minerals and herbal supplements.

Holland and Barrett stores are a familiar sight in almost every major city and town across the UK and have always had a commitment to its customers to provide high-quality products at value-for-money prices.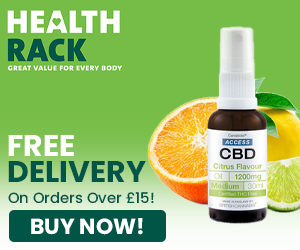 Health Rack is a specialist reseller of CBD Oil and a leading retailer of vitamins, minerals & supplements. We have been operating for over 30 years and we cater to any type of customer with an interest in improving or maintaining their good health.
The UK's largest fully certified organic supermarket, Planet Organic offer organic food delivery across the UK and Europe. From organic veg boxes, fruit, veg, organic wine, health and beauty Planet Organic think carefully about everything they sell so you don't have to.