Free Delivery at Health & Fitness
CATEGORIES
Filters
Showing:
Showing shops which offer some free delivery.
means free for some orders - usually over a certain spend.
means free delivery for all (or most) UK orders.
Remove Filter
Filter:
Show Only -
High Street stores
,
Free Delivery
,
Next Day Delivery
,
Free Next Day Delivery
,
Same Day Delivery
.
Shops
The UK's largest certified organic online superstore, Kijani Living offer delivery of the world's leading organic and natural health products across the UK and Europe, shop the range today!
Predator Nutrition are one of Europe's leading distributors of sports supplements, bodybuilding supplements and sports nutrition products. They have the EXCLUSIVE European distribution rights for some of the industry's most exciting brands, including Driven Sports, IForce Nutrition, Purus Labs and Quest Nutrition.
View all 7 Offers
The UK's leading Health and Beauty website. The on-line shop covers healthcare, beauty, personal care, sunshop, mother and baby, and fitness ranges, with over 12,000 products, half of which are exclusive to Boots. In addition, they provide a wealth of information and advice, daily health news and features. And as you would expect from Boots, they also offer generous Advantage card points for registration and shopping.
Now selling mobile phones, kitchen appliances, CDs, DVDs, computers, lingerie and fresh flowers!
View all 38 Offers
Brilliant beauty bargains at Superdrug.com! Superdrug, great products, and great prices ... what more could you possibly want? Well, how about your own, personal Superdrug, open 24 hours a day, 7 days a week? Sound good, well guess what? It's already here at Superdrug.com.
View all 649 Offers
Europe's No.1 online sports nutrition brand.

Myprotein.com offers premium quality supplements at unbeatable direct prices. With a massive range of over 350 products and its reassuring price guarantee, customers can shop with confidence for all their health and nutrition needs. Key product lines include whey protein, vitamins, amino acids, fish oils, herb extracts, gym accessories and many more.
Show +

10% off The Body Coach Range
Show +

UP TO 35% OFF MYSTERY DISCOUNT
For all the services you would expect to find in your local chemist - including confidential, professional advice from the pharmacist. Find over 10,000 products including private and NHS prescriptions, pharmacy and over-the-counter medicines, vitamins and minerals, complementary medicines, family planning items, personal care toiletries, perfumery, infant and baby care and lifestyle equipment.
Good prices for Clarins, Clinique, Lancome and more.
One of Europe's leading retailers of sports nutrition, vitamins, minerals, health and beauty products.
Show +

10% OFF Any Optimum Nutrition Supplements
Show +

10% OFF PhD Nutrition ...
www.discount-supplements.co.uk
proto-col is a British brand specialising in collagen skincare, mineral cosmetics and advanced nutritional products. Incorporating "Informed Sports" registered products for performance and recovery, the brand has been supplying both celebrities, professional athletes as well as the general public for over 15 years. Now recognised as a a global leader in collagen and superfood technology, proto-col's range is guided by scientific research and incorporates the best ingredients available in the world. This is a truly ground breaking beauty and nutrition brand.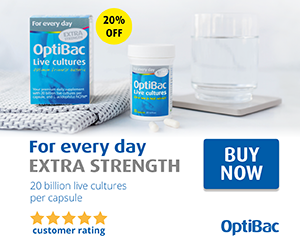 OptiBac use specific probiotic strains such as acidophilus to target specific health conditions. Their expertise in probiotics and prebiotics enables you to find the right natural solution for you.
Show +

Free Worldwide Delivery Over £100
Evolution Organics specialises in high quality brands that are in demand, but not readily available, in the UK. Brands include:
Living Fuel (One of only two European Retailers), Dr Mercola, Green Pasture, Puradyme (UK exclusive), Vega One and Performance, BulletProof Coffee, Activation Products.