Health & Fitness
CATEGORIES
Filters
Shops
proto-col is a British brand specialising in collagen skincare, mineral cosmetics and advanced nutritional products. Incorporating "Informed Sports" registered products for performance and recovery, the brand has been supplying both celebrities, professional athletes as well as the general public for over 15 years. Now recognised as a a global leader in collagen and superfood technology, proto-col's range is guided by scientific research and incorporates the best ingredients available in the world. This is a truly ground breaking beauty and nutrition brand.
#14 Day Matcha Challenge. Can you do it? If after 14 days you don't notice any improvements in your energy levels or mood PureChimp will refund you. See the website for full details.
Show +

FREE Worldwide Delivery On All PureChimp Orders
Show +

Getg Jars Of PureChimp Matcha Tea For £14.95
Vitalife launched with just 5 lines of their own-brand matcha green tea (still available today, and one of their most popular lines), and now offer over 17,000 products across health food, drink, supplements, beauty, household, and make-up.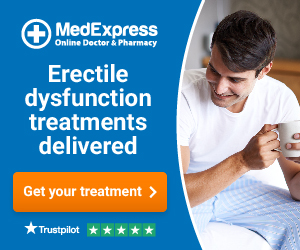 MedExpress is a UK online doctor offering express treatment online for a range of health conditions. Safe, convenient, fast and affordable.
Show +

Get Clinically Proven Weight Loss Pill ...
Show +

Erection Treatments ...
Show +

Genital Herpes Anti-Virals ...
Show +

Buy Hair Loss Treatment Pills ...
Shop vitamins, supplements, protein and other healthy living products such as friendly cosmetics from Primal Cure. Whether you're a bodybuilder, gym goer, building fitness or just want to improve your health, we have a wide selection of products made from natural or organic ingredients.
CBD Oil Silver - 100% Organic & Natural CBD Oil, Ideal for active, stressful & demanding lifestyles. Available all over the UK, visit the website to order.
Bimuno® is a daily food supplement containing a unique natural active ingredient, B-GOS® which naturally feeds and stimulates the growth of good bacteria in the gut.
Hot flushes, night sweats, loss of libido, mood swings & more? 100s of products recommended by women going through the menopause to help with side effects.
Allergy Best Buys, as the name suggests, sells products for allergy sufferers. The allergies they cover are Asthma, Eczema, Sensitive Skin, Latex Allergy, Nickel Allergy, Hayfever and Rhinitis and Dustmite allergy. They also carry products for Seasonal Affective Disorder also known as winter blues.
Maximuscle are Europe's No.1 sports nutrition company, producing research-proven safe and effective products.
Show +

Free Delivery on Orders over £40