Health & Fitness
CATEGORIES
Filters
Shops
Thousands of recommended products, tips & guides, to make everyday life a little bit better for the millions of people living with cancer across the world.
Healthspan are the UKs leading supplier of vitamins, minerals and health supplements. Healthspan have over 16 years experience offering pure pharmaceutical grade products formulated by expert nutritionists.
Show +

£2.50 off £15 spend
Maximuscle are Europe's No.1 sports nutrition company, producing research-proven safe and effective products.
Bimuno® is a daily food supplement containing a unique natural active ingredient, B-GOS® which naturally feeds and stimulates the growth of good bacteria in the gut.
Vivomed are the UK and Ireland's leading sports physiotherapy supply company. Vivomed are distributors for the following brands, Push, PSB, Heartsine, Mueller and BSN. They have a wide range of taping and strapping for sporting teams and individuals participating in sport. Vivomed also have a huge range of sport, orthopedic and rehab braces.
Show +

£2.50 off £50 Spend
Health Products & Personal Care - Our goal at Health Monthly is to save you money by stocking big brand health products at the lowest prices.
Allergy Best Buys, as the name suggests, sells products for allergy sufferers. The allergies they cover are Asthma, Eczema, Sensitive Skin, Latex Allergy, Nickel Allergy, Hayfever and Rhinitis and Dustmite allergy. They also carry products for Seasonal Affective Disorder also known as winter blues.
Protein Dynamix™ is a market leading sports supplement brand with the simple goal of engineering class leading, premium quality products with the sole intention of helping you #BeYourBest. Protein Dynamix™ have hit the market running by creating 'Best in Class' products such as the DynaBar™ (Voted best tasting protein bar on the market) Dynapro™ Anytime (More protein than any other blend in the UK) and DYNAMO™ the ultimate pre workout.
Show +

BCAA AMINO ENERGY DRINK
Show +

STAXX PROTEIN COOKIE
IdealFit know that women are strong, powerful, and absolutely nothing is out of our reach; we're passionate about celebrating females in fitness. We understand that fitness is personal and can be powerful in changing lives; this is why we create products specifically for women, by women. We believe in empowering women to earn their ideal, whatever that means for them and have a range of sports nutrition.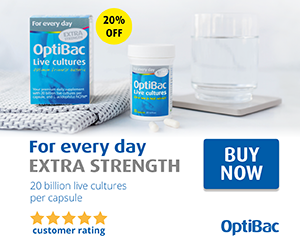 OptiBac use specific probiotic strains such as acidophilus to target specific health conditions. Their expertise in probiotics and prebiotics enables you to find the right natural solution for you.
Show +

Free Worldwide Delivery Over £100