Slimming
Filters
Shops
Vitalife launched with just 5 lines of their own-brand matcha green tea (still available today, and one of their most popular lines), and now offer over 17,000 products across health food, drink, supplements, beauty, household, and make-up.
Predator Nutrition are one of Europe's leading distributors of sports supplements, bodybuilding supplements and sports nutrition products. They have the EXCLUSIVE European distribution rights for some of the industry's most exciting brands, including Driven Sports, IForce Nutrition, Purus Labs and Quest Nutrition.
Brilliant beauty bargains at Superdrug.com! Superdrug, great products, and great prices ... what more could you possibly want? Well, how about your own, personal Superdrug, open 24 hours a day, 7 days a week? Sound good, well guess what? It's already here at Superdrug.com.
View all 685 Offers
Revital exists to make lives healthier and happier. As the UK's No. 1 independent vitamin and health food retailer, we have over 25 years building a family business that provides the largest range, best quality and unbeatable value vitamins and health foods available in the UK.
Established in 1997 in the UK, our premium quality supplements are 100% Pharmaceutical Grade - not food grade – and are completely natural with no artificial additives. With an ever-expanding product range, customers can shop for all of their sports performance, health and nutrition requirements in one place, and have them delivered direct to their door with free delivery and with a 100% money back guarantee!
View all 6 Offers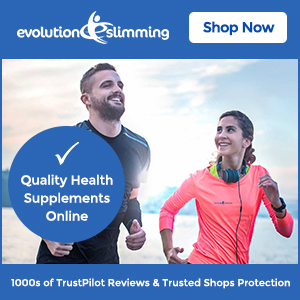 Evolution Slimming is a leading global manufacturer of herbal weight loss supplements, serving over 70 countries worldwide.
Europe's No.1 online sports nutrition brand.

Myprotein.com offers premium quality supplements at unbeatable direct prices. With a massive range of over 350 products and its reassuring price guarantee, customers can shop with confidence for all their health and nutrition needs. Key product lines include whey protein, vitamins, amino acids, fish oils, herb extracts, gym accessories and many more.
Clear Chemist are a UK-based, online pharmacy registered with the NHS. Selling a vast range of products, including over the counter and prescription medicines, toiletries, vitamin supplements and travel accessories, Clear Chemist offer some truly astonishing deals.
Simply Supplements is the UK's second largest online retailer of vitamin and mineral food supplements. Launched 10 years ago, the Simply Supplements range has grown significantly in popularity.

Their premium quality range of supplements includes over 170 products designed for various needs from joint and bone health, to slimming, memory, energy and vitality. Some of our key products include Glucosamine, Fish Oils, Co-Enzyme Q10, Burnoff™, Slimmex™, and Menapol Plus™. In addition, Simply Supplements offers great value and upholds a 'best price guarantee'.
The Skinny Caffe have a range of all natural and safe, weight loss drink Programs and healthy low calorie snacks and yummy zero calorie Syrups.

Whether it's Coffee, Tea or Hot Chocolate - they have it!