The Chemist
CATEGORIES
Filters
Shops
Since 2004, 121Doc have been providing private patients with access to qualified doctors and pharmacies for medical conditions such as male impotence, obesity, premature ejaculation, influenza, Genital Herpes, Emergency Contraception, Female Sexual Dysfunction, smoking and male hair loss. 121Doc are an established online clinic based in London, England and provide services to UK and EU patients.

In the UK, a certified doctor must approve medications that require a prescription. On 121doc, this is obtained through our free consultation service by one of our partner doctors based right here in the UK.

Disclaimer: The content on this site is strictly informational and should not be considered medical advice. See a certified medical professional for diagnosis and treatment recommendations. The advertising and promotion of prescription only medication in Europe is prohibited and unlawful.
Show +

10% discount on all high blood pressure treatments
Murad is transforming the field of skincare with its unique, results-driven range. With a targeted skincare regime to suit every skin concern, they offer ranges for Acne & Spots, Anti Ageing, Cellulite and Stretch Marks, Men's Shaving, Redness and sensitivity, combination skin and sun protection.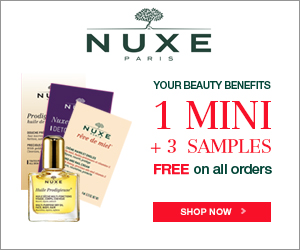 NUXE Laboratory is a leading French cosmetic company.
Show +

Free Delivery on Orders Over £35 ...
Get salon quality style at home with Sally Beauty, the leading supplier of professional hair and beauty products to beauty beginners and enthusiasts alike.
TONI&GUY launch a global trend collection every year directed by Global Creative director Sacha Mascolo-Tarbuck and created by the International Artistic Team taking inspiration from international fashion collections and popular culture, forecasting trends that implement the whole industry. Pioneers in creating cutting edge hair products, the Company have created the award winning TONI&GUY range of haircare products. With new products launched regularly, this range is constantly growing and always talked about.
View all 14 Offers
Revolution Beauty are the team behind Makeup Revolution and many other beauty brands. We are real people with a passion, and we love disrupting the traditional beauty world with innovative and fast, exciting beauty brands.
View all 38 Offers
Steve Smith is the founder of Poundland and now Poundshop.com. Having created a thriving £1 retail industry, Steve is ready to take this phenomenon to the next generation, the online shopper! Poundshop.com offers a growing range of £1 essentials for home and family, representing savings and value for it's customers combined with the convenience of home delivery.
Show +

Halloween Sweets available ...
Show +

Quick Grocery Shop Essentials available ...
Show +

Treat Your Fury Friends
Show +

Food & Drink for under £1 ...
Show +

Free Delivery on orders over £45
Buy professional hair and beauty products online at Fabriah.com for excellent service and professional products at competitive prices. Fabriah sell all the major hair care brands including Redken, L'oreal, Wella, Tigi, Goldwell, Fudge, Sebastian, Moroccanoil, Orofluido, Macadamia and Merlin. They are also branching out into beauty with ranges from Elemis to Orly. You will find everything you need in just a few clicks.
Show +

Free sample size product ...
allbeauty.com is one of the largest and fastest-growing online fragrance and beauty shops in the UK.
View all 7 Offers
Pharmplex Direct are a major online supplier of quality Health and Beauty products. Their extensive list of over 80000 products are offered to consumers online for up to 90% of the RRP's! Pharmplexdirect offers a variety of key services including pharmacy and over-the-counter medicines, vitamins and health supplements, family planning and sexual wellbeing products, perfumes and beauty products, toiletries, electrical items and baby care products.