Same Day Delivery at The Clothes Shop
CATEGORIES
Filters
Shops
Trouva offers instant access to over 10,000 products from London and Brighton's best independent boutiques. We offer a curated selection of unique home, fashion and gift items for the style-savvy shopper. We offer free worldwide shipping and Click & Collect or 1 hour delivery in London.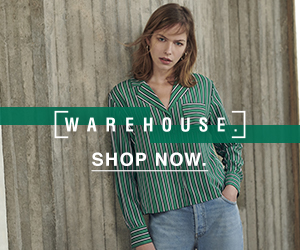 Warehouse is a high street retailer that translates catwalk fashion into affordable clothing for women.
Show +

Enjoy 20% Off the Warehouse Sale
Show +

Enjoy Free Standard Delivery Over £60 ...
Show +

Spend Over £150 ...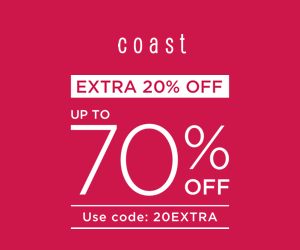 Coast is a niche brand which designs beautiful quality clothing for special occasions, enabling women to receive something special and look and feel fabulous.
Oxygen is London's coolest independent fashion boutique. It is a unique retail concept that has grown from extensive experience of the fashion industry and an intrinsic ability to identify the wardrobe needs of women in the UK.
House of Fraser is Britain's leading retailer of designer brands and one of the best known names on the UK high street. With 61 enviable locations across the country, House of Fraser has presented customers with an unrivalled national department store for more than 150 years and is now offering the opportunity to buy online.
Glassworks Studios is a London-based online fashion boutique offering an edited selection from today's top contemporary designers including the likes of Sass & Bide, Current/Elliott, Preen Line and Karen Walker. Glassworks sells each of the collections in season at full price and has bi-annual end of season sales.
Karen Millen brings a designer approach to the high street dressing confident, glamorous women in polished, fun and feminine clothes. Trends are given a chic spin and always echo the brand's original core values and vision. The label's signature knits, coats, polished tailoring and stunning eveningwear focus on beautiful fabrics and immaculate finishes. The brand prides itself on its individual, well-made pieces that transcend the seasons.
Now that stores around the country increasingly seem to resemble each other, Selfridges is unmistakably unique. Selfridges believe that, at its best, the experience of shopping should be extraordinary, captivating and inspiring.

Selfridges offer shopping at its best, from their famous head-turning window displays to the sheer range and quality of products in-store. Where else could you find the latest in computer technology, luxurious homewares, must-have designer fashion and a feast of mouth-watering food and drink, all under one roof? And now - all on one website!
NET-A-PORTER sells the most recent designs from the most sought after international fashion brands and designers. They are authorized by each of the designers to distribute their collections via the web. The prices reflect the retail prices of traditional boutiques. NET-A-PORTER does not sell factory seconds or discounted products. NET-A-PORTER fashion editors choose each item from each designer because it is completely "of the moment."
Oasis offers a lifestyle collection of clothing accessories and footwear with a reputation for design detail, print, quality of fabric, colour and femininity. The collection succeeds in bringing together a mix of fashion influenced style with an individual personality and continues to evolve season on season.