High Street stores in Accessories
CATEGORIES
Filters
Shops
Trilogy Stores is your one-stop shop for premium designer clothing to make a sophisticated statement. Shop designer denim and more with free UK delivery.
The Superdry brand has attained international recognition thanks to its wide appeal, capturing elements of both "preppy" and streetwear designs with a subtle combination of vintage Americana and Japanese imagery. Superdry offers T-shirts, jeans, sweaters, joggers, hoodies, jackets, shirts, rugby shirts, polo shirts, footwear, as well as bags and accessories. Superdry currently has 76 UK standalone Cult and Superdry retail stores and is sold in 91 countries worldwide. Superdry has enjoyed celebrity-generated publicity from the likes of David Beckham, Zac Efron and Helena Christensen, to name but a few.
Show +

2 Mens Polos for £55
A wide range of goods organised by department as well as a good selection of gifts and food hampers. Departments include Audio and TV, Lighting, Electrical Appliances, Furniture, Toys, Sports and Leisure and Clocks and Watches.
Show +

Save on selected pushchairs
Show +

Buy a Google Mini + Chromecast for £59
Show +

Great offers on fridge freezers
Show +

Save up to 20% on selected outdoor furniture
The online site of the high street chain. Clothing for women size 16-26. Some lines go up to 32. Easy to use site with good quality photos.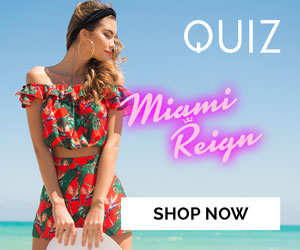 Quiz is a dynamic fast fashion retail group that focuses on delivering catwalk style looks and all the latest trends at value for money prices. This company now has over 250 high street stores.
Coast is a niche brand which designs beautiful quality clothing for special occasions, enabling women to receive something special and look and feel fabulous.
Show +

Up to 40% off selected styles
Show +

40% Off Bridesmaids Dresses
Simon Carter is a British designer fashion brand established in 1985 which thrives on inspiration gleaned from a vast array of sources including the worlds of fine art, the decorative arts, architecture and couture through the ages.
View all 31 Offers
Trouva offers instant access to over 10,000 products from London and Brighton's best independent boutiques. We offer a curated selection of unique home, fashion and gift items for the style-savvy shopper. We offer free worldwide shipping and Click & Collect or 1 hour delivery in London.
Shop at Oxfam online! There are the usual Oxfam goodies as well as a huge selection of second hand and vintage clothes, music, dvds, books and homewares. Also find wedding favours, rare books, ceramics, stamps and coins.
Show +

Standard UK Delivery £3.95
Show +

Free Returns on all UK Orders
As one of London's best loved and completely unique emporiums, Liberty are staking their claim as the preferred destination for avant garde fashion, design, beauty, gifting and homewares.