Ethical Clothing
Filters
Shops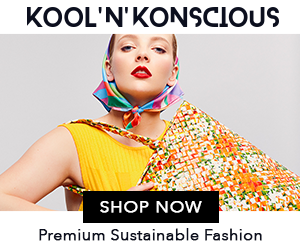 Gathering the coolest sustainable and ethical fashion brands from around the globe in one seamless marketplace. Circular clothing to keep You and the planet cool.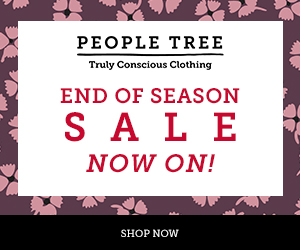 People Tree is the fair-trade, fashion pioneer and online-garment retailer. They make their clothes from environmentally-friendly materials including Fairtrade-certified, organic cotton and natural dyes and use traditional-handicraft skills whenever possible.
Show +

20% OFF AUTUMN COLLECTION
Show +

Free First Class Delivery on Orders Over £100
Show +

Free UK Standard Delivery ...
Over the past three decades, Rokit has recycled over a million tonnes of discarded clothing and accessories to become the highly regarded regular haunt for style savvy Londoners with a worldwide online audience.

Rokit burst onto the scene with a stall in London's iconic Camden Market in 1986 specialising in vintage denim thrifted from American cowboys. The demand was so fierce that within a few weeks the stall was exchanged for a two storey shop on the high street and the Rokit vintage brand was born. Three further stores have been opened in Brick Lane and Covent Garden, each bringing Rokit's diverse and unique product range to a loyal band of regular customers, celebrities and tourists alike.
Show +

15% off in jackets over £100
Show +

10% off orders over £60
Shop a wide range of eco-conscious fashion clothing and accessories made using the finest organic and sustainable materials.
Show +

Shop the Summer Sale now up to 50% off
Show +

Up to 70% OFF in the womens organic clothing sale
Show +

Up to 70% OFF in the mens organic clothing sale
The UK's fastest growing secondhand used clothing store. Buy PreWorn over new - PreLoved fashion.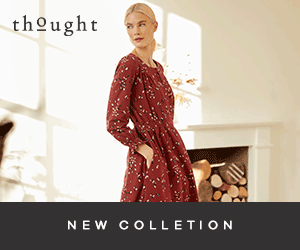 Thought is a natural clothing company born in Sydney, Australia and now based in London. They are a unique independent fashion outfit with a simple philosophy - to design and make beautiful, timeless fashion while caring for our environment.

Their ranges for women and men are made from sustainable fibres such as hemp, bamboo & organic cotton. These fabrics are good for the environment and great to wear!
Bamboo Clothing: Supersoft - nothing feels so good to your skin. From the world's most sustainable crop and 3 times more absorbent than cotton.
Look fabulous and feel good as you are a warrior for our beautiful planet. Recycled plastic and eco-rubber products that combat waste. Protect the environment and love the planet with your eco-yoga wear.
Show +

10% off PlanetWarrior Online Sales with 'AWIN10'
Discover the latest Katharine Hamnett London collection. Wearing apparel ethically and sustainably produced.
Show +

Katharine Hamnett London
The online destination for contemporary womenswear with a conscience. Discover the finest womenswear brands that embody integrity and innovation throughout their supply chain. Designed for the woman that appreciates quality, transparency and simplicity.