T-Shirts
CATEGORIES
Filters
Shops
Mr. Gugu & Miss Go was founded in order to give you the chance to stand out from the crowd. To prove that you are prepared for stylistic compromises. Express yourself through your outfit.
Show +

Special Deals Every Week
Discover the latest Katharine Hamnett London collection. Wearing apparel ethically and sustainably produced.
Show +

Katharine Hamnett London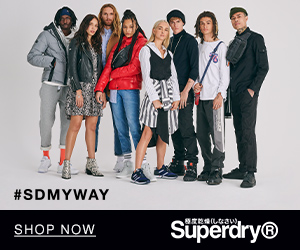 The Superdry brand has attained international recognition thanks to its wide appeal, capturing elements of both "preppy" and streetwear designs with a subtle combination of vintage Americana and Japanese imagery. Superdry offers T-shirts, jeans, sweaters, joggers, hoodies, jackets, shirts, rugby shirts, polo shirts, footwear, as well as bags and accessories. Superdry currently has 76 UK standalone Cult and Superdry retail stores and is sold in 91 countries worldwide. Superdry has enjoyed celebrity-generated publicity from the likes of David Beckham, Zac Efron and Helena Christensen, to name but a few.
Shop the latest women's, men's and children's fashion plus homeware, beauty and more.
For those of you who want up-to-the-minute fashion at affordable prices, M&Co. is the store for you! Offering all the latest looks for the whole family, including petite and plus sizes for the ladies, and with new collections arriving daily - there couldn't be a better time to shop for those fashion essentials. For those who would like to create a new look for your home as well as yourselves, take a look at the fantastic homeware range!
Saltrock Surfwear Ltd. is a British company run by surfers, for surfers. Creating a cool, casual beach style, Saltrock designs for people who want their clothes to reflect their lifestyle.
Shop at Oxfam online! There are the usual Oxfam goodies as well as a huge selection of second hand and vintage clothes, music, dvds, books and homewares. Also find wedding favours, rare books, ceramics, stamps and coins.
Crew Clothing Company is the go-to smart, casual, British lifestyle brand. Founded on the coast, Crew designs essential pieces for your everyday wardrobe, making sure you always look just right – from week to weekend. A passion for quality and attention to detail means that every piece is built to last. Find heritage polos and rugbys, classic shirts, knits, chinos and jeans for men and women.
Accent Clothing is a family run Independent business specialising in selling designer clothing online and in store.

Accent Juniors stocks Armani Junior, Moncler, Replay, Stone Island, Scotch Shrunk, Scotch R'Belle and BOSS to name just a few; catering for the ages of new born to 16 year olds. Accent Juniors stock some of the very best in designer clothing for boys and girls under 16.
View all 12 Offers
Clothes for the whole family from Sainsburys.