T-Shirts
CATEGORIES
Filters
Shops
We are passionate plant-based vegan killjoys! Our small but perfectly formed team is on a mission to spread equality and compassion, one tee at a time. Just like our customers, none of us were born vegan. But once you've swallowed that red pill, there's no going back, Neo.
View all 18 Offers
Shop the latest women's, men's and children's fashion plus homeware, beauty and more.
For those of you who want up-to-the-minute fashion at affordable prices, M&Co. is the store for you! Offering all the latest looks for the whole family, including petite and plus sizes for the ladies, and with new collections arriving daily - there couldn't be a better time to shop for those fashion essentials. For those who would like to create a new look for your home as well as yourselves, take a look at the fantastic homeware range!
Show +

Buy one get one free clearance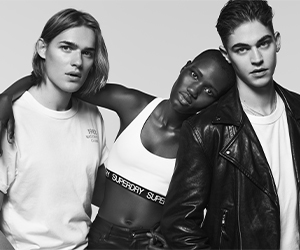 The Superdry brand has attained international recognition thanks to its wide appeal, capturing elements of both "preppy" and streetwear designs with a subtle combination of vintage Americana and Japanese imagery. Superdry offers T-shirts, jeans, sweaters, joggers, hoodies, jackets, shirts, rugby shirts, polo shirts, footwear, as well as bags and accessories. Superdry currently has 76 UK standalone Cult and Superdry retail stores and is sold in 91 countries worldwide. Superdry has enjoyed celebrity-generated publicity from the likes of David Beckham, Zac Efron and Helena Christensen, to name but a few.
Shop at Oxfam online! There are the usual Oxfam goodies as well as a huge selection of second hand and vintage clothes, music, dvds, books and homewares. Also find wedding favours, rare books, ceramics, stamps and coins.
Show +

20% off coffee & chocolate
The Hut is a leading luxury online department store bringing you the very best from their breadth and depth of quality, luxury brands. They specialise in fashion, homeware, beauty, and lifestyle products. Whether you're looking to update your wardrobe, home, or even treat a loved one, they have something for everyone.
Show +

Mid-season Savings
Show +

15% off for new customers
Jeans, tee shirts, footwear, unusual clothing, gifts and toys. Joe Browns is a true lifestyle company offering something more exciting and more individual than the other clothing catalogues in the UK.

Find stylish, laid back clothing for men and women plus original gifts and accessories that you won't find on the high street.
Accessible luxury that brings modern, soulful, effortless and versatile style for men and women around the world. Banana Republic is characterized by elevated designs, luxurious fabrications and approachable prices. Collections include clothing, handbags, jewellery, fragrance and eyewear.
Established in 2011, hype began as a self-funded project, designing printed clothing and accessories. After winning a t-shirt printing competition, hype had its first batch of stock, which sold out in a matter of hours. With the use of social networking, hype quickly developed into something that could no longer be tamed from the single room it was created in. Within months, hype had started to evolve into one of the UK's most recognisable brands.
View all 6 Offers
Crew Clothing Company is the go-to smart, casual, British lifestyle brand. Founded on the coast, Crew designs essential pieces for your everyday wardrobe, making sure you always look just right – from week to weekend. A passion for quality and attention to detail means that every piece is built to last. Find heritage polos and rugbys, classic shirts, knits, chinos and jeans for men and women.
Show +

15% off of £60 or more with free delivery