Memory
Filters
Shops
Ebuyer gives you access to thousands of quality products at the best prices. The range includes computer technology products like desktops, laptops, printers, networking, digital cameras, software, storage and more. Plus, they offer other products such as LED TVs, MP3 players, gaming and home electronics.
7dayshop have been supplying photographic goods since 1998 offline, and since 2000 over the web. Their passion has always been to find the best products and sell them to you at the best prices.
Farnell sell a huge range of computer and engineering parts and accessories. From power supplies, connectors, cables, fans, batteries and chargers to computer consumables, internal components and engineering products.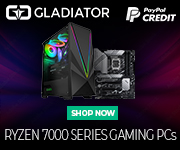 Configure & customise your Gaming PC, Home PC or Office PC the way you want it.
+
Home and Office PCs
Home and Office PCs!
Valid until Wednesday, 17 May 2028.
Novatech have been trading for more than 18 years and serving over 1,000 customers every day! We have more than 12,000 products available and have sold over 3 million products through our website, catalogue and showroom.

We're one of the UK's top mail order computer suppliers employing over 100 people at our 35,000 sq ft complex near Portsmouth. By carefully monitoring stock levels we can ensure that while you will rarely have to wait for an order, you can also take advantage of immediate price drops on components - translating into the values you see in our prices.
Insight is one of the world's largest online IT sellers. Aside from Microsoft themselves, they sell more Microsoft products worldwide than anyone else. They also have over 300 manufacturer accreditations including HP, IBM, Cisco, Fujitsu, Samsung, etc.
In the UK Insight has over 45,000 customers, 70,000 products online, and more than 700 staff.
CCL specialise in desktop PC computers, laptops, notebooks, netbooks and PC components including motherboards, hard drives, CPUs, graphics cards and RAM from leading brands including Acer, Asus, HP, Lenovo, Samsung, Sony, Toshiba and more.
Tekzone are a consumer electronics retailer, and we love what we do. Established for over 50 years and chosen concession partner of Selfridges since 1989, we are dedicated to offering the best products, at the best prices, with the best service.