The Beer Cellar
CATEGORIES
Filters
Shops
"The UK's largest internet off-licence."
The Drink Shop stocks 'your usual and unusual' drinks, and what you can't find in the High Street, hopefully you can find within the The Drink Shop! If you can't find what you're looking for on the site, email them and they'll endeavour to find it for you. Beer, cider, spirits, wine, champagne and whisky (from Jack Daniels to hard-to-find Scottish Malts) as well as ice sculptures and hampers!
View all 15 Offers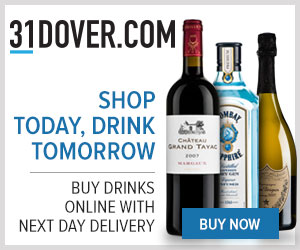 31DOVER.com is the UK's leading online drinks vendor. They stock the best available drinks for any occasion or mood, and they will deliver them to your doorstep the very next day.
Show +

Get Free Delivery ...
At Brewhive we believe brewing is part art, part craft and part science. We use soft water, 100% malted barley, lager or ale yeast and of course hops. This dedication to time-honoured brewing methods, brewing in small batches and traditional processes is what makes our brews so special.

Order in cases of 6.
Kitchen goods and bakeware. Lakeland sell an unrivalled collection of the best in kitchenware and home storage. Over the last 40 years Lakeland has become synonymous with innovation, quality, value and the very best in customer service.
In recent years it's become easier to find gluten free food. All too often though, "gluten free" also means "taste free" and even "nutrition free". But there are great gluten free products ... if you can find them.

We discover and deliver the world's best gluten free products. We bring pasta from Italy, liquorice from Australia, bread from the USA, biscuits from Ireland, seaweed snacks from Korea and much more. MANY OF OUR PRODUCTS ARE EXCLUSIVE TO US IN EUROPE AND CANNOT BE FOUND IN SUPERMARKETS.

We taste and test everything we come across, so customers don't have to. We write honest and independent reviews. No more trial and error for customers. Only great tasting gluten free products that everyone can enjoy.