The Electrical Shop
CATEGORIES
Filters
Shops
Tech Trade are an ecommerce technology supplier specialising in discount Apple Mac technology and cheap mobile smart phones. They sell UK wide and offer hundreds of items that are ready to go for next day delivery.
View all 6 Offers
Expert Verdict is probably best-known as the publisher of Britain's favourite product review catalogue, full of ideas and innovations for life, the home and travel. Whether you're looking for the latest technical innovations or an unusual gadget gift, you'll find all you need at Expert Verdict. They have hundreds of clever and innovative products, most of which you won't find in the high street and many of which are totally exclusive to them.
View all 6 Offers
Powertool World sell professional power tools from leading big brands like Bosch, Makita and Dewalt.
BuySpares is the UK's largest retailer of spare parts and accessories for the home and garden.

They also have a full range of home and garden products, covering everything from vacuum bags and lawnmower blades to spares for your digital camera or laptop as well as small kitchen appliances such as microwaves, kettles and food processors.
For over 30 years Swann has and continues to be one of the world's largest and most reputable in the DIY security surveillance system category.
View all 6 Offers
Energybulbs.co.uk is the UK's number one supplier of branded energy bulbs.

In a market that is flooded with cheap imported bulbs, Energy Bulbs sell only branded products from reputable manufacturers. Their products are backed by long guarantee periods, and fast, free returns and our close relationships with manufacturer's means that they can offer exceptional value.
Howe Tools continuously monitor online prices in the power tool market and purchase in large volumes to maintain these prices.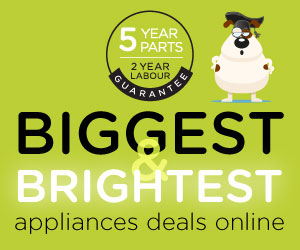 MyAppliances is part of a major manufacturer of domestic appliances that has been supplying kitchen appliances for over 65 years to over 70 countries around the world with a 5 year parts and 2 years labour guarantee as standard on all their range.
Electrical World was born out of the vision to provide an international user-friendly website, providing electrical and security products at competitive prices and top customer service as standard.
View all 7 Offers
Duracell Direct are specialists in the supply of batteries and power accessories. You can get exclusive packs only available from the site, over 2000 Batteries, Adapters and Chargers supporting thousands of models and free delivery on everything!