The Delicatessen
CATEGORIES
Filters
Shops
Established in 1976, the Japan Centre Food Hall is a well-loved institution situated in Central London with an outpost in Westfield Stratford City. In 2005 Japan Centre Online was launched to bring the store experience to those living outside London and the UK.
Show +

New Tea Subscription Service
The UK's largest fully certified organic supermarket, Planet Organic offer organic food delivery across the UK and Europe. From organic veg boxes, fruit, veg, organic wine, health and beauty Planet Organic think carefully about everything they sell so you don't have to.
Pong was created to bring customers in the UK some of the very best cheeses produced by the leading independent and artisan producers, complimented with some classics from Europe.

Pong believe cheese is the greatest gift of all. They sell a large selection of cheese gift selection boxes for the ideal birthday, anniversary, wedding or corporate present.

Each cheese is a little masterpiece of taste and texture and in most cases has a unique and highly skilled process behind its production. From the bizarre looking but phenomenal tasting 'Oxford Blue' to the now legendary 'Stinking Bishop', any of the cheeses available at Pong deserve centre stage.
Hampers for all occasions. Gifts from under £10 (Smoked Duck and Chicken) to over £700 (Worlds Best Red Wines). Choose from smaller gifts of Chocolates, Champagne, Port and Stilton, Smoked Salmon or Smoked Meats or large hampers bursting full of all sorts of goodies, perfect for Christmas or just to cheer someone's day.
One of the leading online shops in UK and Europe for whole foods, health foods and superfoods.
We design, create and dispatch Italian food hampers and food gifts. Each hamper is carefully thought out to showcase the very best Italian food and Italian organic wines. We have a great range of vegan, vegetarian and gluten free hampers.
All Good Hemp products are made from hemp seed containing only 100% natural ingredients. Hemp is a true super seed, naturally high in protein, fibre, Omega 3, vitamins & minerals.
The Good Hemp Range includes Food & Drink, and Protein Supplements: Good Hemp Milk: Dairy Free, Allergen Free, Naturally high in omega 3, Vegan friendly. Choose from Original and Unsweetened.
Good Hemp Seed Hearts: Naturally high in protein, fibre and omega 3. Can be used in baking, shakes, soups and sprinkled on yoghurt, cereal, salads and stir frys.
Good Oil: Truly nutritious culinary oil with a light nutty taste, bursting with omega 3.
Good Hemp Raw Protein: 100% natural plant protein with 50% protein and 20% fibre. Great in shakes and smoothies.
Good Hemp Pure Protein: 75% complete plant protein: the highest plant based protein on the market.
Show +

Free UK Delivery for orders over £30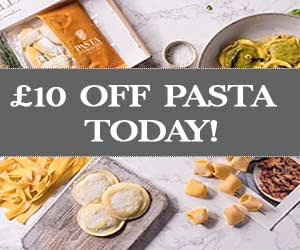 Pasta Evangelists deliver fresh, artisanal pasta dishes every week across the UK. Make 5* dishes at home in 5 minutes & discover the amazing tastes of authentic Italian pasta.
View all 7 Offers
This Spanish department store is now selling in the UK. Shop online womenswear & lingerie to menswear, kids, sports, home and accessories. Over 1000 brands.
Show +

FREE DELIVERY ON ORDERS ABOVE 60€