The Butcher
CATEGORIES
Filters
Shops
The UK's largest fully certified organic supermarket, Planet Organic offer organic food delivery across the UK and Europe. From organic veg boxes, fruit, veg, organic wine, health and beauty Planet Organic think carefully about everything they sell so you don't have to.
Award-winning Scottish butcher meat. Fresh Ayrshire meat delivered across the UK Monday to Saturday.
"You've never tasted better" is the unique promise behind a range of grass-fed beef and gourmet foods from Donald Russell, Britain's leading meat mail order company and Royal Warrant holder, based in Aberdeenshire.
Hampers for all occasions. Gifts from under £10 (Smoked Duck and Chicken) to over £700 (Worlds Best Red Wines). Choose from smaller gifts of Chocolates, Champagne, Port and Stilton, Smoked Salmon or Smoked Meats or large hampers bursting full of all sorts of goodies, perfect for Christmas or just to cheer someone's day.
Fine Food Specialist is a haven for food lovers seeking outstanding ingredients from all over the world.
Great British Meat Co has been selling high quality meat to the British public since 1953, stocking a fantastic range of fresh meat and poultry to buy online. The multi award winning online butcher supplies top chefs and restaurants across the UK.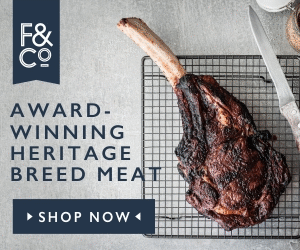 Farmison gives you access to products from heritage farms around the UK. The Farmison product range includes premium meats from the online butchers, cheese boxes and cheese boards, fruit & vegetable boxes.
Show +

Free Standard Delivery ...
Show +

£10 Off Your Order ...
Order online from the supermarket and have your order delivered.
Show +

HALF PRICE PIZZA EXPRESS
"Northfield Farm produces premium quality beef, lamb and pork which has been naturally reared, has lived well and has been humanely killed. We are a licensed dealer in game and can also supply truly free range geese and turkeys for Thanksgiving and Christmas. To complement our sales of high quality meat we stock a tantalising range of predominantly British cheeses. Finally, you have not lived until you have tried our range of heather honey and other condiments."
Ordering by phone only.