Next Day Delivery at The Gift Shop
CATEGORIES
Filters
Shops
The Superdry brand has attained international recognition thanks to its wide appeal, capturing elements of both "preppy" and streetwear designs with a subtle combination of vintage Americana and Japanese imagery. Superdry offers T-shirts, jeans, sweaters, joggers, hoodies, jackets, shirts, rugby shirts, polo shirts, footwear, as well as bags and accessories. Superdry currently has 76 UK standalone Cult and Superdry retail stores and is sold in 91 countries worldwide. Superdry has enjoyed celebrity-generated publicity from the likes of David Beckham, Zac Efron and Helena Christensen, to name but a few.
"Why send flowers when you can send biscuits instead?"

Biscuiteers provide beautiful hand crafted biscuits, chocolates and cakes suitable for any celebratory occasion.
House of Fraser is Britain's leading retailer of designer brands and one of the best known names on the UK high street. With 61 enviable locations across the country, House of Fraser has presented customers with an unrivalled national department store for more than 150 years and is now offering the opportunity to buy online.
Show +

Up to 30% off selected Luggage
Show +

Up to 30% off Bedlinen
Show +

Up to 30% off Outdoor Dining
Show +

30% off selected Beach Towels
Whatever you're looking for, you can rely on Goldsmiths. They have long been recognised and trusted for the value, quality and style of every piece in their stores.
Show +

Up to 30% off Luxury Watches
Show +

20% Off Wedding Rings
Show +

Up to 50% Off Engagement Rings
Show +

Up to 30% Off Diamond Jewellery
Trouva offers instant access to over 10,000 products from London and Brighton's best independent boutiques. We offer a curated selection of unique home, fashion and gift items for the style-savvy shopper. We offer free worldwide shipping and Click & Collect or 1 hour delivery in London.
Hotel Chocolat offers the finest chocolates money can buy.
Using quality, authentic ingredients is an ethos that has been fundamental at Hotel Chocolat since the beginning and the 'no nasties' approach bans the use of additives such as hydrogenated vegetable fat and artificial colours in order to let the pure chocolate flavours and aromas through.
Hotel Chocolat Tasting Club
vouchers make great gifts.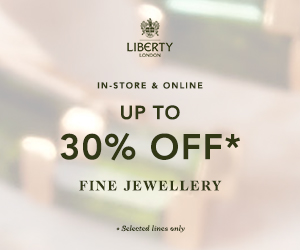 As one of London's best loved and completely unique emporiums, Liberty are staking their claim as the preferred destination for avant garde fashion, design, beauty, gifting and homewares.
Show +

Further Reductions
Show +

Shop Now for Up to 40% Off
Great Little Trading Co (GLTC) is an award-winning retailer of children's furniture, home accessories and classic wooden toys. Founded in 1996, GLTC offers its own unique modern British designs to help parents create inspirational spaces for children which look good in the family home. Key products include smart storage for toys, books and clothes, children's bedroom furniture and bedding, curtains and rugs, desks and desk accessories, dressing tables and toys.
You can now shop online for hundreds of gorgeous, innovative, sweet-smelling products that do exactly what they claim to do, inspired by nature, ethically made. All of your favourite products, 24/7 shopping, delivered direct to your door.
Thorntons, the highstreet chocolate shop, also has a selection of fine wines, flowers, hampers, and other gift ideas.
Show +

Free Cocoa Dusted Truffles box WYS £30
Show +

8% Off Everything on Site