Next Day Delivery at The Gift Shop
CATEGORIES
Filters
Shops
The Superdry brand has attained international recognition thanks to its wide appeal, capturing elements of both "preppy" and streetwear designs with a subtle combination of vintage Americana and Japanese imagery. Superdry offers T-shirts, jeans, sweaters, joggers, hoodies, jackets, shirts, rugby shirts, polo shirts, footwear, as well as bags and accessories. Superdry currently has 76 UK standalone Cult and Superdry retail stores and is sold in 91 countries worldwide. Superdry has enjoyed celebrity-generated publicity from the likes of David Beckham, Zac Efron and Helena Christensen, to name but a few.
Whatever you're looking for, you can rely on Goldsmiths. They have long been recognised and trusted for the value, quality and style of every piece in their stores.
View all 6 Offers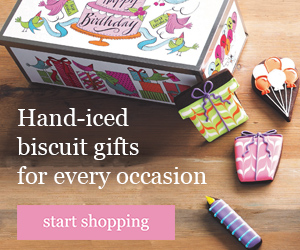 "Why send flowers when you can send biscuits instead?"

Biscuiteers provide beautiful hand crafted biscuits, chocolates and cakes suitable for any celebratory occasion.
Cowshed is a range of natural, therapeutic plant-based products with cheeky names but serious benefits. They use organic, wildcrafted and fairly-traded botanicals from sustainable sources, without the use of synthetics or preservatives. Made in England.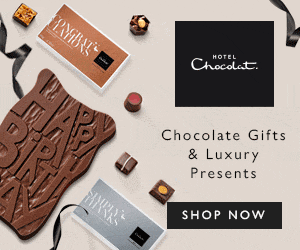 Hotel Chocolat offers the finest chocolates money can buy.
Using quality, authentic ingredients is an ethos that has been fundamental at Hotel Chocolat since the beginning and the 'no nasties' approach bans the use of additives such as hydrogenated vegetable fat and artificial colours in order to let the pure chocolate flavours and aromas through.
Hotel Chocolat Tasting Club
vouchers make great gifts.
Show +

2 for £10 on Selected Mother's Day Gifts
Great Little Trading Co (GLTC) is an award-winning retailer of children's furniture, home accessories and classic wooden toys. Founded in 1996, GLTC offers its own unique modern British designs to help parents create inspirational spaces for children which look good in the family home. Key products include smart storage for toys, books and clothes, children's bedroom furniture and bedding, curtains and rugs, desks and desk accessories, dressing tables and toys.
You can now shop online for hundreds of gorgeous, innovative, sweet-smelling products that do exactly what they claim to do, inspired by nature, ethically made. All of your favourite products, 24/7 shopping, delivered direct to your door.
Thorntons, the highstreet chocolate shop, also has a selection of fine wines, flowers, hampers, and other gift ideas.
View all 7 Offers
The UK's leading Health and Beauty website. The on-line shop covers healthcare, beauty, personal care, sunshop, mother and baby, and fitness ranges, with over 12,000 products, half of which are exclusive to Boots. In addition, they provide a wealth of information and advice, daily health news and features. And as you would expect from Boots, they also offer generous Advantage card points for registration and shopping.
Now selling mobile phones, kitchen appliances, CDs, DVDs, computers, lingerie and fresh flowers!
View all 34 Offers
A wide selection of teas and coffees along with mugs, coffee and tea pots, grinders and other accessories.
View all 8 Offers