Corporate Gifts
Filters
Shops
Discover, curate and personalise beautiful gifts and stationery gifts. One of a kind finds, packed by hand & sent with love.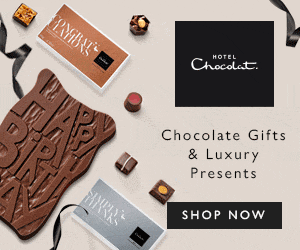 Hotel Chocolat offers the finest chocolates money can buy.
Using quality, authentic ingredients is an ethos that has been fundamental at Hotel Chocolat since the beginning and the 'no nasties' approach bans the use of additives such as hydrogenated vegetable fat and artificial colours in order to let the pure chocolate flavours and aromas through.
Hotel Chocolat Tasting Club
vouchers make great gifts.
+
The Velvetiser – Stellar White Edition
The Velvetiser – Stellar White Edition!
Valid until Thursday, 28 Oct 2027.
+
Black Friday
Black Friday!
Valid until Tuesday, 23 Nov 2027.
+
Christmas Shopping Event
Christmas Shopping Event!
Valid until Tuesday, 23 Nov 2027.
All sorts of gifts for all sorts of people. From champagne and chocolates & hampers to a flight in a helicopter, winetasting, or even a snowboarding lesson. There are sections on flowers, gagets, speed, play, adventure, adrenalin and chill.
31DOVER.com is the UK's leading online drinks vendor. They stock the best available drinks for any occasion or mood, and they will deliver them to your doorstep the very next day.
Stuck for gift ideas? Funky Hampers has thousands of gifts for all occasions. From gourmet food hampers to retro sweet hampers, from hand made chocolate bouquets to random retro gifts. We specialise in producing gifts with a difference, which in turn guarantee to bring smiles to faces.
Thomas Lyte is a modern and luxury English brand, specialising in exquisite leather accessories and bespoke silverware. With the finest designers and makers, we are proud Royal Warrant Holders as Goldsmiths and Silversmiths to Her Majesty the Queen. Our brand emulates luxury and modernism, ensuring the highest quality and skill are embedded in every item.
Available Right Now on eBay