Chocolates and Sweets
CATEGORIES
Filters
Shops
Boomf gives you creative superpowers. Your brilliant photos on marshmallows, chocolate or bombs!
Show +

Buy 2 products and get 15% off with voucher code: YAY15
Show +

Get 10% off your purchase with code: SURPRISEME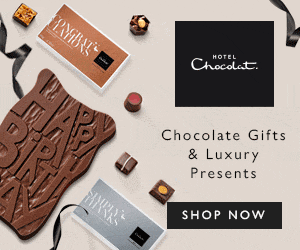 Hotel Chocolat offers the finest chocolates money can buy.
Using quality, authentic ingredients is an ethos that has been fundamental at Hotel Chocolat since the beginning and the 'no nasties' approach bans the use of additives such as hydrogenated vegetable fat and artificial colours in order to let the pure chocolate flavours and aromas through.
Hotel Chocolat Tasting Club
vouchers make great gifts.
Thorntons, the highstreet chocolate shop, also has a selection of fine wines, flowers, hampers, and other gift ideas.
Show +

Free Standard Delivery on purchases above £10
Montezuma's specialise in bringing together fantastic quality ingredients in an innovative fashion to create delicious and unusual chocolate products. The quality of their ingredients is their priority and this means that many of the products are organic. All of their products are made by them in West Sussex and they have a strong ethical stance and conduct business under their 'trading fairly' policy. This ensures that their suppliers, customers and all those they come into contact with are dealt with properly and fairly along the way.

Montezuma's were launched in 2000 from a tiny shop in Brighton and have since opened another 4 shops, and an online store which has gone from strength to strength.
HEMA's online store is filled with original designs at surprisingly low prices. Find something to make your daily life easier and more fun!
Since 1926 Godiva has been the premier maker of the fine Belgian chocolate.
Cadbury Gifts Direct - the simple, convenient way to gift Cadbury chocolate.

Choose from a wide range of delicious Cadbury products including many not available in shops or supermarkets. Features a 'pick and mix' section to create your own unique Cadbury hamper.
Welcome to www.lovehearts.com! An imaginative range of gifts and ideas based on the universally loved brand. Whether you're celebrating a birth, birthday, wedding or looking for a special way to tell someone how you feel, then there's no better way than to say it with sweets. We are unique in the wedding market. We are the only company that makes and sells JUST MARRIED and MARRY ME wedding favours and Love Hearts.
Show +

FREE UK DELIVERY FOR £20 SPEND
Show +

Spend £30 spend on our valentines range and get 'Alan the Avocado' for free
Show +

Swizzels classics in the form of hampers
Show +

FREE PERSONALISATION ON ALL GIFT HAMPERS
An award winning website from Chocolate Trading Company retailing the widest selection of premium chocolates from around the world, from over 15 leading chocolatiers. All categories of chocolate are available from single origin gourmet bars to stylish assorted gift boxes and unique novelties. They have some amazing Easter Eggs and Mothers Day gift ideas.
Show +

An additional 15% off the new personalisation range
You have given chocolates before, just never like this. zChocolat brings you a sophisticated and unforgettable gift. A collectible wooden box, decorated with engraved quotations and beautifully designed labels, contains a delectable assortment of the finest quality French chocolates. Combined with zChocolat.com's five star quality services, your gift will convey how much you treasure your relationship.