Bracelets
Filters
Shops
Shoot and tie the best memories to your wrist: with Clyck you can make your bracelet and personalize it with photos of special moments or people you love.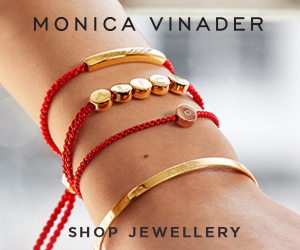 Award winning jewellery brand Monica Vinader is the brand of choice for elegant and wearable jewellery.

Shop for the Fiji bracelet, stackable rings, personalised jewellery and other gift ideas.

See the selection of bracelets and pendants which you can have engraved - for free!
Show +

Free Standard UK Delivery on All Orders ...
Show +

Receive Free global Delivery
C W Sellors is one of the UK's leading independent jewellers, bringing the finest selection of luxury jewellery & watches from leading designers & brands. We have a huge selection of fine, fashion & fun jewellery available across each of our 16 boutiques based throughout the Midlands and northern England.

A family run business since 1979 with an intense passion for luxury jewellery and watches, specialising in British gemmology with our own in-house design team and talented craftsman who have created an unbeatable collection of award winning jewellery.
View all 31 Offers
Whatever you're looking for, you can rely on Goldsmiths. They have long been recognised and trusted for the value, quality and style of every piece in their stores.
View all 6 Offers
Established in 1856, F.Hinds is an independent, family-owned and run business which celebrated 150 years in 2006. They offer an extensive selection of diamonds, gold and silver jewellery, watches, clocks, collectibles and giftware and have an enviable reputation for friendly and professional customer service.
Etsy is a marketplace where people around the world connect to buy and sell handmade and vintage goods.
The Range is a chain of department stores spread around the UK. It has products ranging from DIY, Homewares, Furniture, and Lighting to Arts & Crafts and Garden.
Chapelle are the leading clearance jewellery and watch retailer in the UK with 20 stores nationwide. Our products range from silver jewellery at under £20 to diamond rings at over £2,000. Every item sold has at least 30% off the RRP with many lines offering between 30% and 50% off the usual selling price.

We offer the same quality you would expect from the high-street jewellers but at clearance prices - we do not sell 'seconds' and 'second-hand' goods.
View all 15 Offers
Pia sells truly creative and original gold and silver jewellery and fashion accessories.
Show +

Save 40% on 40 Styles
French Connection is the high street retailer that is synonymous with fashion and style. It balances new and exciting ideas with consistent delivery of quality and affordability.
Show +

10FLASH 10% Off Sale