Cufflinks
Filters
Shops
Whatever you're looking for, you can rely on Goldsmiths. They have long been recognised and trusted for the value, quality and style of every piece in their stores.
View all 11 Offers
Established in 1856, F.Hinds is an independent, family-owned and run business which celebrated 150 years in 2006. They offer an extensive selection of diamonds, gold and silver jewellery, watches, clocks, collectibles and giftware and have an enviable reputation for friendly and professional customer service.
Etsy is a marketplace where people around the world connect to buy and sell handmade and vintage goods.
Chapelle are the leading clearance jewellery and watch retailer in the UK with 20 stores nationwide. Our products range from silver jewellery at under £20 to diamond rings at over £2,000. Every item sold has at least 30% off the RRP with many lines offering between 30% and 50% off the usual selling price.

We offer the same quality you would expect from the high-street jewellers but at clearance prices - we do not sell 'seconds' and 'second-hand' goods.
View all 20 Offers
A leading retailer of shirts, ties, suits and more for both Men and Women.
Why buy from T.M.Lewin? Basically because no-one else offers the same quality at such a low price.
Looking for a wedding gift? Confetti has a great selection of gifts for all occasions, as well as an extensive and stylish range of party products and wedding favours. They also have a popular and easy to use gift list for couples with a choice of over 2,000 gift ideas from under £5 to over £1000.
For Christmas there are Cards, Party Accessories, Stocking Fillers and much more.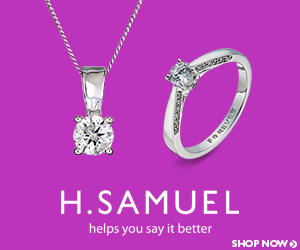 H.Samuel is firmly established as the UK's favourite high-street jeweller and you can now shop online.

You'll find a great collection of fashionable and traditional diamonds, silver, platinum and gold jewellery, big-brand watches, stylish gifts and cute collectibles. With over 3,000 products to choose from, including H.Samuel exclusives, there's something to suit every occasion, taste and budget. Plus find buyers' guides, key seasonal trends and special offers online.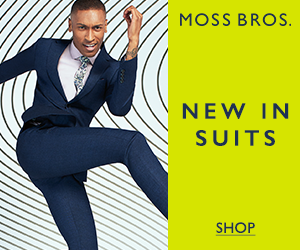 From modest beginnings in 1851 in a corner of London's Covent Garden, Moss Bros has been at the forefront of menswear through the decades. WW1 military, 20s royal courts, 30s cruise liners, 60s mod fashion, 80s power suits, today's high-profile society events - and they're still ahead of the game.

Their proud and unique heritage gives them the core values they've held since the beginning: an unceasing commitment to quality service and products. Their talented buyers, knowledgeable store assistants and caring customer service team make up the Moss Bros family of the 21st century, leading the market into the exciting times ahead.
View all 10 Offers
The quality of Hawes & Curtis' products is as high as it was over a century ago and the exclusive British brand offers a wide range of superior clothing and accessories at affordable prices. Whilst providing traditional formal wear we also strive to be fashion forward, frequently updating stock to keep ahead of the latest trends. The menswear range includes shirts, shoes, accessories, suits, casualwear and outerwear. Men's formal shirts are crafted from 100% two-fold-cotton. The ladies range includes shirts, blouses and stylish accessories.
Simon Carter is a British designer fashion brand established in 1985 which thrives on inspiration gleaned from a vast array of sources including the worlds of fine art, the decorative arts, architecture and couture through the ages.
View all 13 Offers