Necklaces
Filters
Shops
Personalised enamel jewellery that is timeless in style and built to last. Each bangle, cuff, necklace and earring is made to order in London with names, dates and initials.
Show +

Free Delivery All UK Orders
JewelStreet is an online marketplace of jewellery boutiques. Featuring jewellery from over 300 jewellery brands and designers, JewelStreet is fast becoming the new way to buy jewellery online.
Make Life Sparkle - The Jewellery Channel makes luxury jewellery very affordable, selling the world's widest variety of gemstones. Their exquisite collection includes Tanzanite, Emeralds, rings, bracelets, pendants and much more.
Founded in the United Kingdom, and headquartered in Edinburgh, Scotland, Orchira is a leading British pearl jewellery brand and fast growing Intrenational luxury brand known for its extensive line of exquisite pearl jewellery designs.
Jewellery with meaning. Design your charm jewellery then add a message to create the perfect gift.
View all 7 Offers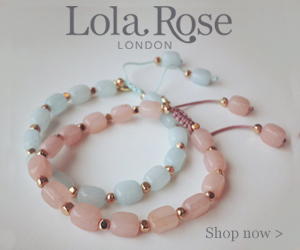 The Lola Rose philosophy is one of affordable luxury, and for women to be able to spoil themselves with our semi-precious stone designs. Lola Rose is now recognised as one of the leading brands in fashion jewellery in the UK.
The founders of Purely Diamonds have been in the diamond industry for over 30 years. They are specialists in the design and manufacture of diamond jewellery - everything from rings and earrings to bracelets, bangles and pendants. They are also experts in the manufacture of Platinum pieces as well as 18-carat yellow and white gold.
Tru Diamonds appeals to customers who are want to buy luxury jewellery at a affordable prices. Tru-Diamonds has an extensive range of rings, earrings, necklaces and bracelets that feature genuine Tru-Diamonds™ set in 18ct Gold, or Platinum, clad on a solid core of sterling silver.
View all 12 Offers
Museum Selection offer gifts and home accessories inspired by the past, exploring over one thousand years of art and history. Working with museums and galleries around the world, Museum Selection is proud to support over 30 institutions.
The Danish jewellery company has stores all over the world.

World-renowned for its high quality and hand-finished jewellery at affordable prices, PANDORA designs, manufactures and markets modern jewellery made from genuine materials.