Gifts for Men
CATEGORIES
Filters
Shops
Issara is the brainchild of Rosh, an avid traveller and corporate escapee. Like many others, she experienced the frustration of finding a minimalist, well made leather bag that would last and didn't cost a fortune. Years later during a serendipitous foray into a small Javanese leather workshop, her back-of-napkin sketches were brought to life by skilled craftsmen using traditional methods. Thus began the Issara journey.

MISSION | To make luxury-quality leather goods accessible, while engaging in socially conscious business.
View all 9 Offers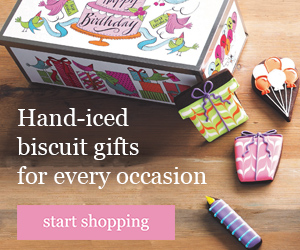 "Why send flowers when you can send biscuits instead?"

Biscuiteers provide beautiful hand crafted biscuits, chocolates and cakes suitable for any celebratory occasion.
Show +

10% Off Your First Order ...
Whatever you're looking for, you can rely on Goldsmiths. They have long been recognised and trusted for the value, quality and style of every piece in their stores.
Show +

Up to 30% off Luxury Watches
Show +

Up to 50% off Sale
Show +

20% Off Wedding Rings
Etsy is a marketplace where people around the world connect to buy and sell handmade and vintage goods.
Trouva offers instant access to over 10,000 products from London and Brighton's best independent boutiques. We offer a curated selection of unique home, fashion and gift items for the style-savvy shopper. We offer free worldwide shipping and Click & Collect or 1 hour delivery in London.
The online site of this high street chain is very easy to use and offers a wide selection of wines and spirits. Also available are beer, water, soft drinks and accessories but these can only be ordered with wines or spirits and the delivery may be restricted. There is information about each wine, competitions, gift shopping, and much more.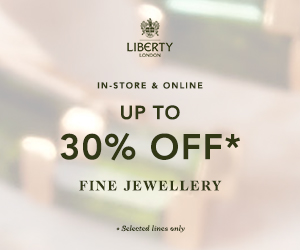 As one of London's best loved and completely unique emporiums, Liberty are staking their claim as the preferred destination for avant garde fashion, design, beauty, gifting and homewares.
A wide range of goods organised by department as well as a good selection of gifts and food hampers. Departments include Audio and TV, Lighting, Electrical Appliances, Furniture, Toys, Sports and Leisure and Clocks and Watches.
Show +

Save on selected pushchairs
Show +

Buy a Google Mini + Chromecast for £59
Show +

Great offers on fridge freezers
Show +

Save up to 20% on selected outdoor furniture
The UK's leading Health and Beauty website. The on-line shop covers healthcare, beauty, personal care, sunshop, mother and baby, and fitness ranges, with over 12,000 products, half of which are exclusive to Boots. In addition, they provide a wealth of information and advice, daily health news and features. And as you would expect from Boots, they also offer generous Advantage card points for registration and shopping.
Now selling mobile phones, kitchen appliances, CDs, DVDs, computers, lingerie and fresh flowers!
View all 37 Offers
Golf Support's mission is to provide a one stop shop for all your golfing requirements. Offering a Price Beat + Policy which ensures UK lowest online prices. They are authorized online retailers for all of their named brands ensuring peace of mind. Their dedicated team of highly qualified professionals ensure sales and aftersales service of the highest standard.
View all 35 Offers