The Gift Shop
CATEGORIES
Filters
Shops
Cross has been around for over 166 years, with a retail presence in high end retailers such as Harrods, Selfridges and John Lewis.

Cross is constantly re-invented writing instruments, combining design ingenuity with jewellery-quality craftsmanship, making Cross the first choice for everything from quality pens, fountain pen, stationery and personalised gifts.
View all 9 Offers
Founded in Alderley Edge in 2016, Parasol Store has been built with the needs of the modern traveller in mind. We work tirelessly to source a globally curated selection of travel focused accessories, lifestyle, clothing and gifting products.
The Superdry brand has attained international recognition thanks to its wide appeal, capturing elements of both "preppy" and streetwear designs with a subtle combination of vintage Americana and Japanese imagery. Superdry offers T-shirts, jeans, sweaters, joggers, hoodies, jackets, shirts, rugby shirts, polo shirts, footwear, as well as bags and accessories. Superdry currently has 76 UK standalone Cult and Superdry retail stores and is sold in 91 countries worldwide. Superdry has enjoyed celebrity-generated publicity from the likes of David Beckham, Zac Efron and Helena Christensen, to name but a few.
Cowshed is a range of natural, therapeutic plant-based products with cheeky names but serious benefits. They use organic, wildcrafted and fairly-traded botanicals from sustainable sources, without the use of synthetics or preservatives. Made in England.
Shop at Oxfam online! There are the usual Oxfam goodies as well as a huge selection of second hand and vintage clothes, music, dvds, books and homewares. Also find wedding favours, rare books, ceramics, stamps and coins.
Show +

Sourced By Oxfam Rainbow Collection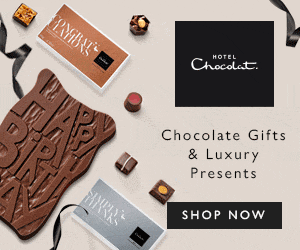 Hotel Chocolat offers the finest chocolates money can buy.
Using quality, authentic ingredients is an ethos that has been fundamental at Hotel Chocolat since the beginning and the 'no nasties' approach bans the use of additives such as hydrogenated vegetable fat and artificial colours in order to let the pure chocolate flavours and aromas through.
Hotel Chocolat Tasting Club
vouchers make great gifts.
The Hut is a leading luxury online department store bringing you the very best from their breadth and depth of quality, luxury brands. They specialise in fashion, homeware, beauty, and lifestyle products. Whether you're looking to update your wardrobe, home, or even treat a loved one, they have something for everyone.
Show +

15% off for New customers
Temporary new opening hours: 8am to 8pm, Monday to Saturday. NHS priority shopping Monday, Wednesday and Friday from 8am to 9am.
ASDA, the UK's second largest supermarket. You can do all your online grocery shopping with Asda.com from the comfort of your home. You can shop until 10pm and still get your order the next day in most cases! You have a favourites list which is just like having your very own shelf in Asda, full of your favourite foods - meaning that you need never forget anything again. You can even enter a receipt number into Asda.com and within 30 minutes a shelf is populated with those items, it's just like magic.
As one of London's best loved and completely unique emporiums, Liberty are staking their claim as the preferred destination for avant garde fashion, design, beauty, gifting and homewares.
A wide range of goods organised by department as well as a good selection of gifts and food hampers. Departments include Audio and TV, Lighting, Electrical Appliances, Furniture, Toys, Sports and Leisure and Clocks and Watches.