High Street stores in The Gift Shop
CATEGORIES
Filters
Shops
Shop online with this high street store. Over 9,000 products in all sorts of departments. Great prices on furniture, electricals, mobile phones and a huge selection of toys.
The Works offers great value artist materials, books, art & craft supplies, gifts, toys and games.
View all 13 Offers
Scotts specialises in innovative products for Kitchen, Home and Garden.
Show +

Free Standard Delivery On Orders Over £60
Show +

Sign up to our emails and get 10% off your first order
The UK's leading Health and Beauty website. The on-line shop covers healthcare, beauty, personal care, sunshop, mother and baby, and fitness ranges, with over 12,000 products, half of which are exclusive to Boots. In addition, they provide a wealth of information and advice, daily health news and features. And as you would expect from Boots, they also offer generous Advantage card points for registration and shopping.
Now selling mobile phones, kitchen appliances, CDs, DVDs, computers, lingerie and fresh flowers!
View all 9 Offers
A wide selection of teas and coffees along with mugs, coffee and tea pots, grinders and other accessories.
View all 10 Offers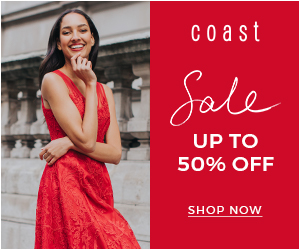 Coast is a niche brand which designs beautiful quality clothing for special occasions, enabling women to receive something special and look and feel fabulous.
Brilliant beauty bargains at Superdrug.com! Superdrug, great products, and great prices ... what more could you possibly want? Well, how about your own, personal Superdrug, open 24 hours a day, 7 days a week? Sound good, well guess what? It's already here at Superdrug.com.
View all 511 Offers
The National Trust Online Shop has a wide range of gifts, quirky kitchen ranges, books and environmental and gardening ranges. Some of their bestsellers are from their National Trust range including National Trust Monopoly. Their rugs are also bestsellers which are made in the UK.

All profits go towards helping the National Trust look after the special places in its care. This includes over 300 historic houses and gardens and 49 industrial monuments and mills and also forests, woods, fens, beaches, farmland, downs, moorland, islands, archaeological remains, castles, nature reserves and villages.
Light and colour – two things that together lift our mood, make us smile and generally put a spring in our step.

And that's where Cable & Cotton Fairy Lights can help. They sell colourful fairy lights in millions of possible colour combinations to liven up your living room, pep up your office, add some mood to your place of inspiration or act as a soothing night light for your child's bedroom.
Montezuma's specialise in bringing together fantastic quality ingredients in an innovative fashion to create delicious and unusual chocolate products. The quality of their ingredients is their priority and this means that many of the products are organic. All of their products are made by them in West Sussex and they have a strong ethical stance and conduct business under their 'trading fairly' policy. This ensures that their suppliers, customers and all those they come into contact with are dealt with properly and fairly along the way.

Montezuma's were launched in 2000 from a tiny shop in Brighton and have since opened another 4 shops, and an online store which has gone from strength to strength.
Show +

FREE White Chocolate Turtle with orders over £20
Show +

FREE box of our In The Pink Truffle Collection with orders over £35
Show +

NEW 300g Chocolate Bars
Show +

FREE delivery on all orders over £35