The Gift Shop
CATEGORIES
Filters
Shops
Trollbeads - the original since 1976. Trollbeads jewellery is made from 18-carat gold, sterling silver, Italian glass, freshwater pearls and precious stones, and is created from a blend of traditional and modern techniques.
Show +

Receive 15% Off ...
Show +

Free Delivery on All Orders
Skinnydip London look beyond what's been done before to find something exciting and new. They are a London-based lifestyle brand whose designs are inspired by everything around them. They are constantly on the hunt for the next big thing. They don't just create fashion accessories for the cool and the kind, they try hard to make a change in the world for the better.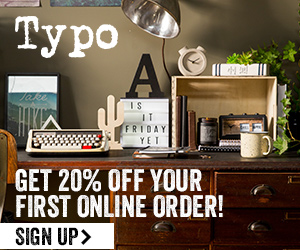 Typo are an Aussie gift, stationery and lifestyle brand and they have been around since way back in the day (aka 2009!) Typo has everything you could possibly want and things you never knew you had to have!
World-renowned, award-winning designer. From handbags to footwear, from men's and women's ready-to-wear to watches, eyewear and fragrance products.
The National Trust Online Shop has a wide range of gifts, quirky kitchen ranges, books and environmental and gardening ranges. Some of their bestsellers are from their National Trust range including National Trust Monopoly. Their rugs are also bestsellers which are made in the UK.

All profits go towards helping the National Trust look after the special places in its care. This includes over 300 historic houses and gardens and 49 industrial monuments and mills and also forests, woods, fens, beaches, farmland, downs, moorland, islands, archaeological remains, castles, nature reserves and villages.
Halcyon Days is a British luxury gifts brand whose name is synonymous with outstanding quality and charm, at the forefront of artisanal craftsmanship. With rich heritage in luxury handcrafted products, they now offer fashion accessories collections.
TASCHEN is the world's leading art-book publishing house. The company is known for having created a dazzling, audacious, and controversial world of eye-catching coffee table books spanning architecture, art, design, fashion, photography, style, and travel.
The Pen Shop is Europe's largest writing instrument specialist and one of only two pen shop chains in the world.

The Pen Shop has 22 branches nationwide including stand alone shops, concessions in department stores: Debenhams and House of Fraser, and a Tax Free shop at Stansted airport.
David Shuttle Ltd has been trading in Fine Dining, Gifts and Jewellery for more than 30 years. We have established ourselves as one of the UK's largest retailers of Swarovski Crystal, Riedel Crystal, Emma Bridgewater and Lalique to name but a few.
View all 11 Offers
Bohemia is a creative design company working in ethical partnership with artisans in Morocco and India to handcraft contemporary bohemian fashion and homewares.