The Gift Shop
CATEGORIES
Filters
Shops
Firebox is the place to get the latest gadgets, boys' toys, music, videos, games and cool stuff you just can't live without.
Subscribe to over 800 magazine titles online and save.
Find hundreds of products in a variety of categories including home & leisure, garden & DIY, audio & electrical, nursery & toys and gifts & jewellery. Additionally Bargain Crazy also offers a clearout zone, gift finder and not forgetting PRICE PLUNGE where the price of selected products reduces over time to as much as 90% off the original retail price. Are we mad? Probably.
The National Magazine Company's online magazine shop. The National Magazine Company is one of the foremost luxury consumer magazine publishers in the UK. The National Magazine Company publishes some of the most admired and well established magazines in the UK including Good Housekeeping, Country Living, Men's Health, Harper's Bazaar, Esquire and Cosmopolitan.
A genuine original archive newspaper from a date of your choice. A perfect way to commemorate someone's birthday, anniversary or other special occasion.

No quibbles guarantee: Our 'no quibbles' guarantee means that if, for any reason, a customer is unhappy with their purchase, i.e. the item ordered is defective, the wrong date or they have simply changed their mind then, provided that it is in its original condition, and the packaging has not been personalised, it can be returned to us for prompt replacement or refund within 30 days of delivery.
Hampers for all occasions. Gifts from under £10 (Smoked Duck and Chicken) to over £700 (Worlds Best Red Wines). Choose from smaller gifts of Chocolates, Champagne, Port and Stilton, Smoked Salmon or Smoked Meats or large hampers bursting full of all sorts of goodies, perfect for Christmas or just to cheer someone's day.
The British Museum shops offer a wide selection of books and gifts based on the British Museum's collections and exhibitions.
Show +

A collection of luxurious scuplture and replicas inspired by the Ancient gods and iconic art
www.britishmuseumshoponline.org
Choose beautiful bouquets or select luxurious gifts and hampers - all with FREE delivery (£30 min spend on hampers).
View all 11 Offers
Cox & Cox aims at individually-minded customers who desire personally chosen products rather than mass-produced, and embraces the heartfelt philosophy that it is possible to create a home that is both beautiful and practical.

The products range from Home furnishing, interior Design, Fashion, Gifts to Weddings.
View all 6 Offers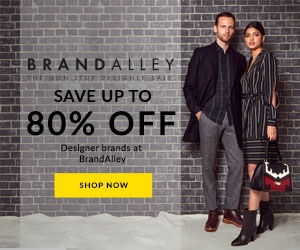 BrandAlley is the UK's leading private/flash-sales site with a unique offering across fashion, beauty, homeware and lifestyle for women, men and children.
Show +

Up to 80% Off our Designer Outlet