Personalised Gifts
Filters
Shops
Etsy is a marketplace where people around the world connect to buy and sell handmade and vintage goods.
Beautiful gifts for you, your kitchen or your loved ones!

Choose pottery by pattern or shape. Emma's earthenware is made by hand in her factory in Stoke-on-Trent, Staffordshire. The spongeware patterns are decorated entirely by hand and all the pottery is dishwasher and microwave safe.

You can also buy glass, melamine, tins, textiles and stationery. You can also personalise the pottery for a really special present.
Konditor & Cook, a double act of pastry chef and cook, or sweet and savoury food, is the brainchild of German born Konditormeister Gerhard Jenne and was founded in 1993.

There are six sites in central London. Each location has its own unique atmosphere and architectural character, but all provide fresh handmade food using high-quality ingredients.

We take pride our original baking and consistent quality, using organic, free-range eggs and natural butter. Konditor & Cook is particularly well known for our extensive range of brownies and legendary chocolate & vanilla Curly Whirly cake, as well as products such as gingerbread people and signature Magic Cakes which reflect our humorous take on the daily bake.
MOO is a printing company. They print beautiful products, using images that you upload directly to MOO, or can be automatically pulled in from your Facebook or Flicker account. Each product can be completely personalized because every card/sticker can have a different photo on the front!

Perfect for personalised Christmas cards, business cards, or invitations.
Studio offers the latest fashions, cards and wrap, gifts, toys, household and electrical goods. We also offer hundreds of products that can be personalised at no extra charge, including cards, toys and gifts as well as many clothing items.
Shop online for latest jewellery trends for women and men, and quality home and gift ideas at Lisa Angel.
Show +

10% student discount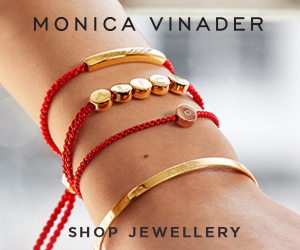 Award winning jewellery brand Monica Vinader is the brand of choice for elegant and wearable jewellery.

Shop for the Fiji bracelet, stackable rings, personalised jewellery and other gift ideas.

See the selection of bracelets and pendants which you can have engraved - for free!
Show +

Receive Free global Delivery
The Nike store has all the Nike footwear, clothing and sports equipment.

NIKE iD is your chance to be a NIKE designer; this allows you to customise and personalise a wide assortment of NIKE footwear, clothing, bags and timing. Your creations are then made to order, and will arrive in approximately 3 weeks.
Show +

Free Delivery with Nike+
Hersey & Son is one of the few remaining traditional silversmiths in the UK. Manufactured by hand in our London workshop our sterling silver jewellery, homeware and silver gifts have been a trade secret for nearly 70 years. Prices start from £20.
Show +

Get 10% off your first order ...
Notonthehighstreet offers thousands of unique gifts, home and garden accessories, original fashion and jewellery, natural health & beauty, funky pet accessories, greetings cards & stationery, plus children's clothing, all from hundreds of small creative businesses, and all through a single basket and checkout.