The Christmas Shop
CATEGORIES
Filters
Shops
A choice of hundreds of beautiful sofas, dining tables, beds and bedroom furniture; expert interior design buyers have created great ranges of textiles, wallpapers and home accessories; a great selection of electrical products at competitive prices; the unique Casa range of beautiful pieces for every room in the home and garden. Leekes have hundreds of branded and own-brand items in tableware, electrical appliances and cookshop, or check out the garden and outdoor living departments for the accessories that complete your space. That's the great thing about Leekes. You're home.
Etsy is a marketplace where people around the world connect to buy and sell handmade and vintage goods.
Kitchen goods and bakeware. Lakeland sell an unrivalled collection of the best in kitchenware and home storage. Over the last 40 years Lakeland has become synonymous with innovation, quality, value and the very best in customer service.
Shop at Oxfam online! There are the usual Oxfam goodies as well as a huge selection of second hand and vintage clothes, music, dvds, books and homewares. Also find wedding favours, rare books, ceramics, stamps and coins.
Show +

Sourced By Oxfam Homeware Sale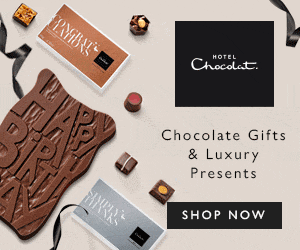 Hotel Chocolat offers the finest chocolates money can buy.
Using quality, authentic ingredients is an ethos that has been fundamental at Hotel Chocolat since the beginning and the 'no nasties' approach bans the use of additives such as hydrogenated vegetable fat and artificial colours in order to let the pure chocolate flavours and aromas through.
Hotel Chocolat Tasting Club
vouchers make great gifts.
Great Little Trading Co (GLTC) is an award-winning retailer of children's furniture, home accessories and classic wooden toys. Founded in 1996, GLTC offers its own unique modern British designs to help parents create inspirational spaces for children which look good in the family home. Key products include smart storage for toys, books and clothes, children's bedroom furniture and bedding, curtains and rugs, desks and desk accessories, dressing tables and toys.
B&Q
TOP 500
The UK's biggest diy retailer brings you over 10,000 products available to buy on-line and have delivered direct to your door. Also find a huge amount of DIY information. Get your shopping delivered to your home the next day or on Saturday.
Jokers' Masquerade sells fancy dress costumes for adults and children. Also hats, wigs, face masks and other accessories. There are special sections for Harry Potter costumes, Lord of the Rings, The Wizard of Oz and Starwars as well as special seasonal sections for Halloween and Christmas. There are lots of special offers and price promotions, all from from stock.
Hampers for all occasions. Gifts from under £10 (Smoked Duck and Chicken) to over £700 (Worlds Best Red Wines). Choose from smaller gifts of Chocolates, Champagne, Port and Stilton, Smoked Salmon or Smoked Meats or large hampers bursting full of all sorts of goodies, perfect for Christmas or just to cheer someone's day.
Studio offers the latest fashions, cards and wrap, gifts, toys, household and electrical goods. We also offer hundreds of products that can be personalised at no extra charge, including cards, toys and gifts as well as many clothing items.