Father's Day
Filters
Shops
Etsy is a marketplace where people around the world connect to buy and sell handmade and vintage goods.
Hotel Chocolat offers the finest chocolates money can buy.
Using quality, authentic ingredients is an ethos that has been fundamental at Hotel Chocolat since the beginning and the 'no nasties' approach bans the use of additives such as hydrogenated vegetable fat and artificial colours in order to let the pure chocolate flavours and aromas through.
Hotel Chocolat Tasting Club
vouchers make great gifts.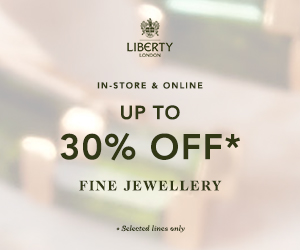 As one of London's best loved and completely unique emporiums, Liberty are staking their claim as the preferred destination for avant garde fashion, design, beauty, gifting and homewares.
The high street chain selling newspapers, books and stationery.
The UK's leading Health and Beauty website. The on-line shop covers healthcare, beauty, personal care, sunshop, mother and baby, and fitness ranges, with over 12,000 products, half of which are exclusive to Boots. In addition, they provide a wealth of information and advice, daily health news and features. And as you would expect from Boots, they also offer generous Advantage card points for registration and shopping.
Now selling mobile phones, kitchen appliances, CDs, DVDs, computers, lingerie and fresh flowers!
View all 37 Offers
Bouf.com sell unique designer gifts and products that you cannot find on the high street. From home, garden and art to fashion, jewellery and gifts, Bouf.com has something for every budget.

Choose from over 10,000 designer gifts and brands sold by over 2,500 of the world's leading designers and boutiques. As examples, you can find on Bouf.com retro telephone handsets by Hulger, giant wall stickers by Binary Box, beautiful ornate mirrors by Angel at My Table, funky cushions and lighting by Ferm Living, a huge range of glassware by Holmegaard and bespoke jewellery by Katie Rowland.
Show +

5% off all products ...
Show +

Get 15% off your cart ...
Show +

Get 10% off your first purchase ...
Pong was created to bring customers in the UK some of the very best cheeses produced by the leading independent and artisan producers, complimented with some classics from Europe.

Pong believe cheese is the greatest gift of all. They sell a large selection of cheese gift selection boxes for the ideal birthday, anniversary, wedding or corporate present.

Each cheese is a little masterpiece of taste and texture and in most cases has a unique and highly skilled process behind its production. From the bizarre looking but phenomenal tasting 'Oxford Blue' to the now legendary 'Stinking Bishop', any of the cheeses available at Pong deserve centre stage.
The UK's top web retailer of personalised and special gifts.
Thousands of unique, premium quality gifts for the whole family. This site is well laid out and there is a very useful gift wizard which will help you find the perfect prezzy. Lots of modern designs and a wide range of prices.
Spreadshirt Designer is Europe's most popular online T-Shirt Printing service that allows you to design and order clothing personalised with your own text and designs.

As well as t-shirts you can choose from polo shirts, sweatshirts, hoodies, tank tops, shorts, joggers, aprons, bags, phone and tablet cases, umbrellas and more.

If you don't want to design your own, you can buy from the huge selection of designs on the site - and even sell your own!