Halloween
CATEGORIES
Filters
Shops
Angels has supplied costumes to hundreds of films that have won Oscars including Titanic and Shakespeare in Love. There are so many to choose from, you will look just right.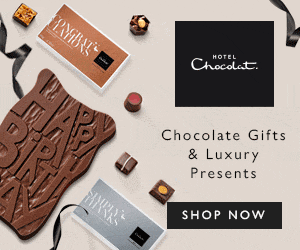 Hotel Chocolat offers the finest chocolates money can buy.
Using quality, authentic ingredients is an ethos that has been fundamental at Hotel Chocolat since the beginning and the 'no nasties' approach bans the use of additives such as hydrogenated vegetable fat and artificial colours in order to let the pure chocolate flavours and aromas through.
Hotel Chocolat Tasting Club
vouchers make great gifts.
Thorntons, the highstreet chocolate shop, also has a selection of fine wines, flowers, hampers, and other gift ideas.
Firebox is the place to get the latest gadgets, boys' toys, music, videos, games and cool stuff you just can't live without.
M&S is one of the UK's leading retailers of clothing, foods, homeware and financial services with high street shops nationwide.

Online you can shop from Womenswear, Lingerie, Menswear, Kidswear, Homeware & Furniture, Wine, Flowers and Gifts and Entertainment.
Claire's Accessories is one of the world's leading speciality retailers of fashionable accessories and jewellery at affordable prices.
Jokers' Masquerade sells fancy dress costumes for adults and children. Also hats, wigs, face masks and other accessories. There are special sections for Harry Potter costumes, Lord of the Rings, The Wizard of Oz and Starwars as well as special seasonal sections for Halloween and Christmas. There are lots of special offers and price promotions, all from from stock.
In administration on 3rd November 2019. All UK stores closed. Mothercare products are now sold by Boots.

Find pushchairs, car seats, clothes (including maternity clothes), toys and furniture and things for the nursery. There are plenty of special offers and gift ideas.
Stuck for gift ideas? Funky Hampers has thousands of gifts for all occasions. From gourmet food hampers to retro sweet hampers, from hand made chocolate bouquets to random retro gifts. We specialise in producing gifts with a difference, which in turn guarantee to bring smiles to faces.
Bettys has more than 90 years expertise behind them. They produce only the very best Yorkshire and Swiss specialities, from hand-crafted chocolates made from the finest Grand Cru chocolate, to delicious cakes that add the perfect touch to any occasion.

From buttery shortbread to hearty gingerbread, there's always time for a Bettys biscuit, made even more delicious accompanied by the same Bettys Tea Room Blend Tea served in their Café Tea rooms or a cup of freshly brewed coffee. All their gift boxes are packed with a selection of irresistible specialities making the perfect gift for someone special.

Bettys deliver direct to your door, in the UK and overseas.