Mother's Day
CATEGORIES
Filters
Shops
Etsy is a marketplace where people around the world connect to buy and sell handmade and vintage goods.
Beautiful gifts for you, your kitchen or your loved ones!

Choose pottery by pattern or shape. Emma's earthenware is made by hand in her factory in Stoke-on-Trent, Staffordshire. The spongeware patterns are decorated entirely by hand and all the pottery is dishwasher and microwave safe.

You can also buy glass, melamine, tins, textiles and stationery. You can also personalise the pottery for a really special present.
Interflora is the leading flower relay network in the world. They do not mass-produce bouquets on a production line; each gift is carefully prepared and delivered by a skilled Interflora florist. The orders are fully guaranteed for quality, condition and value.

You can purchase finishing touches to enhance your flower arrangement, including chocolates, teddy bears and balloons.

Prices start from £19.99 + delivery and there is something for everyone within the collection from contemporary hand-tied arrangements to traditional bouquets.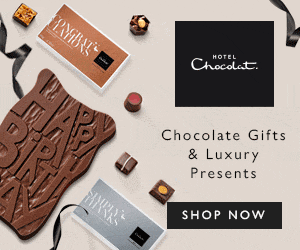 Hotel Chocolat offers the finest chocolates money can buy.
Using quality, authentic ingredients is an ethos that has been fundamental at Hotel Chocolat since the beginning and the 'no nasties' approach bans the use of additives such as hydrogenated vegetable fat and artificial colours in order to let the pure chocolate flavours and aromas through.
Hotel Chocolat Tasting Club
vouchers make great gifts.
As one of London's best loved and completely unique emporiums, Liberty are staking their claim as the preferred destination for avant garde fashion, design, beauty, gifting and homewares.
You can now shop online for hundreds of gorgeous, innovative, sweet-smelling products that do exactly what they claim to do, inspired by nature, ethically made. All of your favourite products, 24/7 shopping, delivered direct to your door.
M&S is one of the UK's leading retailers of clothing, foods, homeware and financial services with high street shops nationwide.

Online you can shop from Womenswear, Lingerie, Menswear, Kidswear, Homeware & Furniture, Wine, Flowers and Gifts and Entertainment.
View all 7 Offers
Studio offers the latest fashions, cards and wrap, gifts, toys, household and electrical goods. We also offer hundreds of products that can be personalised at no extra charge, including cards, toys and gifts as well as many clothing items.
The UK's top web retailer of personalised and special gifts.
Pong was created to bring customers in the UK some of the very best cheeses produced by the leading independent and artisan producers, complimented with some classics from Europe.

Pong believe cheese is the greatest gift of all. They sell a large selection of cheese gift selection boxes for the ideal birthday, anniversary, wedding or corporate present.

Each cheese is a little masterpiece of taste and texture and in most cases has a unique and highly skilled process behind its production. From the bizarre looking but phenomenal tasting 'Oxford Blue' to the now legendary 'Stinking Bishop', any of the cheeses available at Pong deserve centre stage.