Pet insurance
CATEGORIES
Filters
Shops
A leading insurance site in the UK for Travel, Pet and Computer Insurance with fully automated quotation and fulfilment facilities. We are a One Stop Shop for all your Insurance Needs with very competitive prices. In association with well-known insurers we ensure that you receive the most suitable quotation at the very best price.
Travel insurance policies for single trip, multi trip, backpacking, adventure traveller, longstay, skiing, business, golf or group travel.
Petwise is the trading name for Thornside Limited who are a member of the BDML Holdings Group and were established in 1995.

Like BDML, Thornside are specialists in the 'Behind the brand' insurance market providing underwriting facilities to many household names including LloydsTSB, Argos, Homebase.

We have in total, over 150,000 current policyholders placing us in the top five Pet Insurers within the UK.

With 2 out of every 3 domestic pets requiring veterinary treatment each year its no wonder that more and more responsible pet owners are arranging health care insurance for their beloved pets.

Even routine treatments can cost many hundreds of pounds. More complex procedures can run in to the thousands. Not all Pet Healthcare insurance policies are the same. Some companies charge all of their customers the same price and will only pay out on a condition for a short period.

Petwise have developed a sophisticated rating system so that your premium is based on your pets breed, age and post code as well as many other factors. This means that you pay a fair price.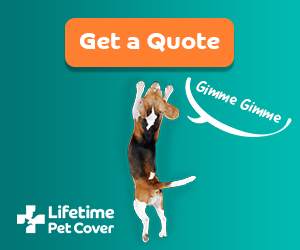 As the name suggests, Lifetime Pet Cover only offer lifetime pet insurance policies. There are five levels of cover for vet fees: �1,000, �2,000 �4,000, �6,000 and �10,000. The policies also include dental treatment for accident and illness, complementary therapy up to �1,000, overseas cover up to 3 months per year and third party liability up to �1,000,000.
Cover My Pet believe that pets deserve the best treatment, to get them back on the mend should the unexpected happen. Their policies and exceptional customer service have been designed to make pet insurance straightforward, making life better for their customers, and their pets. They have 3 types of cover to suit your budget as well as your pet's needs, including Lifetime cover with up to £10,000 of cover for veterinary fees per year.
VetsMediCover take pride in keeping things simple. Their goal is to provide a reliable insurance policy that is well delivered and gives you complete peace of mind that you will be able to give your pet the best possible care. They offer four levels of cover and are confident that one of those policies will be the perfect solution for you and your pet.
Homebase offer different types of cover for cats and dogs, because cats and dogs have different needs.