Office Supplies
CATEGORIES
Shops
The Range is a chain of department stores spread around the UK. It has products ranging from DIY, Homewares, Furniture, and Lighting to Arts & Crafts and Garden.
Hive offers competitive prices on a huge range of books, eBooks, DVDs, music and stationery. Hive supports a network of over 360 independent high street retailers and offers free in-store collection or home delivery.

By shopping on this site you will be helping to support independent bookstores and local high streets.
The Works offers great value artist materials, books, art & craft supplies, gifts, toys and games.
View all 13 Offers
Ryman the stationer is a long established office product and stationery retailer, specialising in providing quality products to the home office, small office and student market. The online store carries their full range of merchandise and additional Internet only products and they pride themselves in being able to source all office-related products for their customers.
Show +

£20 off voucher for Business Customers ...
Show +

£10 off Business Customers ...
MOO is a printing company. They print beautiful products, using images that you upload directly to MOO, or can be automatically pulled in from your Facebook or Flicker account. Each product can be completely personalized because every card/sticker can have a different photo on the front!

Perfect for personalised Christmas cards, business cards, or invitations.
If you are looking for office supplies then this is the site - you'll find over 15,000 office supplies products at 20%-80% off retail prices, low price guarantee, free no-hassle returns and free 30-day credit account facility.
National Pen provides a complete range of promotional products & personalised pens that can be customised with your company logo. National Pen are the leading supplier of promotional items in the UK as we offer low minimum order quantities, a one year guarantee, fast delivery and let you order today and pay after delivery if required.
Show +

15% off all orders
Show +

Free Shipping on National Pen Orders
Show +

15% off National Pen Products
Show +

10% Off Everything on Site
Where a smile meets a giggle, it's the world's greatest place! Innovative and unique stationery for school, the home or office in bold colours and quirky Smiggle graphics.
View all 9 Offers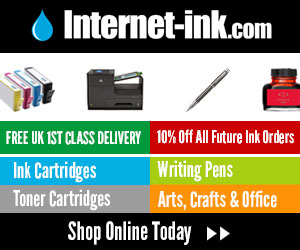 One of the UK's biggest online cartridge shops for ink cartridges, toner cartridges, writing pens & office supplies, with amazing customer service always included. Specialists in Epson, Brother, Canon, HP compatible ink cartridges, compatible toner and original versions also held in stock.