The Tobacconist
Filters
Shops
Fortnum & Mason is a central London department store. It has two other branches in Japan and holds a Royal Warrant. First established in 1707 by William Fortnum and Hugh Mason, it is one of Britain's iconic brands.

At Fortnum & Mason's online store you can experience the unique shopping experience of Fortnum's London, filled with hundreds of wonderful gifts, world-famous hampers, together with food, wine and accessories.
+
The Joy of Six
The Joy of Six: Enjoy 10% off 6 bottles
Mix and match six bottles of choice and receive 10% off
Terms and Conditions: Discount can be applied to any 6 bottles of sparkling, still, sweet and fortified wine, including half bottles and magnums. Offer excludes spirits, seasonal reductions, re-mixed cases or monthly offers..
Valid until Friday, 31 Dec 2021.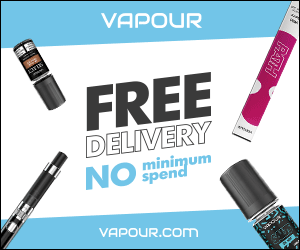 Vapour.com is one of the oldest vape retailers in the UK. Established in 2011 and formerly known as Vapourlites; we're one of the UK's top trusted e-liquid, e-cigarette and smoking cessation retailers.
Vape and Juice launched in 2013 as an online only retailer but has now grown to over 26 physical stores.

Vape and Juice stock a wide range of premium and affordable eliquids for vaping, but also stock a number of exclusive lines.
E Cigarette Web is one of the UK's leading online retailers of Electronic Cigarettes , E-liquid and accessories. We offer only the best quality products and provide honest advice on getting the most from your vaping experiences. Hailed as the smoker's smart choice, e cigarettes are a cost effective and convenient alternative to traditional cigarettes. E cigs produce a nicotine vapour which not only looks and acts like traditional smoke, has no lingering odour, making them a great choice if you are trying to reduce your dependency on tobacco, without the harmful side-effects attributed to tobacco smoking and second hand smoke.
No.1 Ejuice UK offer a fantastic selection of cheap vape e juice, e cig liquid and e cigarette products at great prices with FREE UK delivery on orders over £40.
SMOKO Premium E-Cigarettes is the leading electronic cigarette brand in the UK. SMOKO E-Cigarettes has been designed to deliver the most realistic smoking sensation with incredible flavours without the 4,000 chemicals and 50 known carcinogens found in normal cigarettes.
Available Right Now on eBay