Next Day Delivery at The Pet Shop
CATEGORIES
Filters
Shops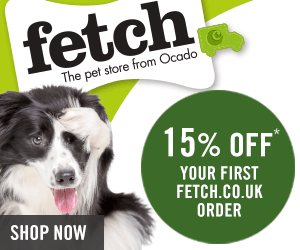 Fetch, the pet store from Ocado, is a standalone online pet store currently stocking more than 8,000 products, ranging from food and treats to specialist healthcare, toys, bed accessories, and much more. The website caters for a whole host of animals including dogs, cats, birds as well as smaller animals including rabbits, guinea pigs and chickens.
Show +

Enjoy 15% Off Your First Order with Code WELCOME15
Show +

Free Next Day Delivery ...
Show +

15% Off Your First Shop
Pets at Home offers the ultimate pet shop experience. We have all the pet supplies, pet food, toys and accessories you and your pet need at great value prices. Our online pet shop has a great range of over 2000 pet supplies including dog food, cat litter, rabbit hutches and much more!