Snow sports
CATEGORIES
Filters
Shops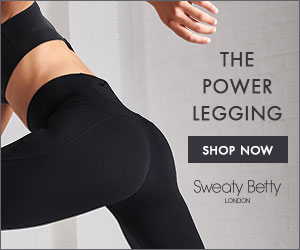 Why not look great while you're working out? Sweaty Betty has a wide range of clothes to look good in on the beach, at yoga, in the gym and on the slopes.

They have got their own beautiful product line and complement their offer with products from brands such as Puma, Adidas by Stella McCartney, MBT, USA PRO, Nike and Asics.
Show +

Unlock a Secret Reward Plus Win £1000 Worth of Sweaty Betty
The Hut is a leading luxury online department store bringing you the very best from their breadth and depth of quality, luxury brands. They specialise in fashion, homeware, beauty, and lifestyle products. Whether you're looking to update your wardrobe, home, or even treat a loved one, they have something for everyone.
Show +

25% off selected Tommy Hilfiger
Show +

2 for 1 on selected MP Clothing
Show +

Save up to 30% in our midseason sale
Show +

New Customers get 15% off
This comprehensive bike site gives you access to a huge range of products but the site is very well laid out making it easy to find what you're looking for. There are some great bargains and for regular customers there are extra discounts.
The site has now expanded to include new sections for running, hiking, swimming, water sports and snow sports.
Show +

Free UK Delivery on orders over £20
Show +

365 Day Returns Available
Blackleaf.com has been retailing online since 2000 and prides itself on its customer service and choice. Blackleaf.com sells a huge selection of shoes from nearly every urban lifestyle brand including some skate shoes that you won't find anywhere else.

They stock all the major lifestyle brands such as Vans, DC, Etnies, Converse, Duffs, DVS, Gravis, Roxy, Oakley, Nixon, Hurley, Animal, Quiksilver, and Fox Racing.
Jack Wolfskin is among the leading providers of functional outdoor clothing, footwear and equipment in Europe and the largest franchiser in the German specialist sports retail market. There are more than 600 franchise stores and 4,000 sales locations throughout Europe and Asia.
Show +

Free delivery for orders over £75.00
The North Face® fundamental mission remains unchanged since 1966: building the best gear for the outdoors, supporting the preservation of wild places, and inspiring a global movement of outdoor exploration.
Snow and Rock are the UK's No.1 ski clothing & equipment retailer with 23 stores nationwide and have been in the wintersports business for nearly 30 years.

With a superb retail presence in the City, a concession in Harrods and stores nationwide, the Snow+Rock brand and the brands that they carry are the best. They stock Kjus, Schoffel, Eider, Spyder, DC's, Burton, Westbeach and many more.
Shop jackets & gear for Skiing, Sailing, Outdoor, and Sportswear. Founded in Norway in 1877, Helly Hansen continues to protect and enable professionals making their living on oceans and mountains around the world.
Oakley blends art and science to redefine product categories, rejecting the constraints of conventional ideas. This unique design philosophy makes Oakley one of the most coveted brands in the world today. World-class athletes and amateurs alike embrace the "O" icon to define their own style and exceed the limits of possibility.
A huge collection of snowboard gear from the UK's No.1 independent snowboard shop. Stores Nationwide.
View all 6 Offers