Swimming
CATEGORIES
Filters
Shops
Badminton, basketball, boxing, croquet, tennis, soccer, netball, pool, trampolines, table football, golf, squash, swimming, sailing, snooker, table tennis, rugby, fitness and cricket. Find a huge range of clothing, accessories and equipment with special offers and free delivery. Each sport has a separate department, once you enter the department you'll find all the items listed down the left side of the page and specials on the right. Don't be put of by the lack of anything in the centre of the page!
Golf
Balls, clubs, full sets, bags, clothing, shoes and a full range of accessories.
Fitness
Dumbells and weights, rowing machines, exercise bikes, treadmills, body fat monitors, heart rate monitors and lots, lots more.
Show +

5% off all Proform Products
Show +

7% off all Tennis Rackets
Show +

6% Off Badminton Rackets
Show +

5% off all NordicTrack Products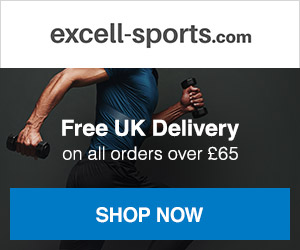 Shop designer sportswear, branded training equipment and sports clothes at Excell Sports.
The Hut is a leading luxury online department store bringing you the very best from their breadth and depth of quality, luxury brands. They specialise in fashion, homeware, beauty, and lifestyle products. Whether you're looking to update your wardrobe, home, or even treat a loved one, they have something for everyone.
Show +

Mid-season Savings
Show +

New Customers get 15% off
This comprehensive bike site gives you access to a huge range of products but the site is very well laid out making it easy to find what you're looking for. There are some great bargains and for regular customers there are extra discounts.
The site has now expanded to include new sections for running, hiking, swimming, water sports and snow sports.
Show +

Free UK Delivery on orders over £20
Show +

365 Day Returns Available
Speedo offers the widest choice of swimwear and accessories all year round. Whether you're swimming for sport or just want to look great on the beach - there's something for everyone!

As well as bikinis, swimming costumes and trunks, they have a wide selection of accessories including goggles, water shoes, sunglasses and even waterproof mp3 players.
Shop for the latest equipment and fashion from Adidas, Nike, Puma, Barbour and more! Your first choice for apparel for Football, Rugby, Golf and Tennis.
UK Sport Imports is an established and reputable retailer of sports and fitness equipment. We are well known for our great prices and range of products and we pride ourselves on our recognised excellent after sales service.
Say goodbye to unflattering black wetsuits and hello to this bold beauty, with contrasting colour blocks shaped to accentuate your feminine figure. Perfect for entry to mid-level surfers, the Bloom 3/2 MM Back Zip GBS Wetsuit by GlideSoul is equipped with back zip and GBS seams to reduce water seepage and is constructed with the highest quality materials to keep you protected and warm out on the water.
Save Big on Sports Gear, Sports Shoes & Sports Equipment. Stores around the country.