The Toy Shop
CATEGORIES
Filters
Shops
Very nicely designed site - pleasant to use and easy to find what you're looking for.
QD Stores is a major UK discount retail outlet that stock a huge range of quality discount items, from furniture, homewares and electrical goods, to toys, clothing and pet supplies. QD's low profit margin strategy ensures that most items for sale on the QD website are highly price competitive, with very few merchants able to beat them on price.
View all 8 Offers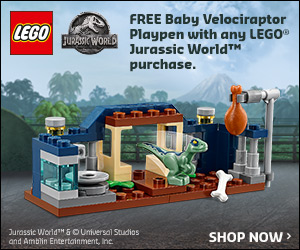 Did you know that The World's Biggest LEGO Shop is at your fingertips? You can purchase direct from The LEGO Group. The online shop is packed with all the newest LEGO sets, exclusive collector's items, LEGO bricks & pieces for individual purchase, PLUS hard-to-find classic LEGO sets!
Show +

The New Lego Hogwarts Castle
Show +

Get a Free Exclusive Plants ...
Show +

Free Unikitty™ Castle Room with Unikitty
Samuel Johnston Ltd. is Irelands longest established specialist nursery retailer, boasting over 75 years of experience in the industry. They have two large retail stores in Northern Ireland and a team of highly trained sales staff can offer extensive advice and expert car seat fitting at both locations.
Show +

Ickle Bubba Stomp V4 Special Edition AIO TS + Isofix Base
Well designed site with plenty to buy and lots of information. Find pushchairs, car seats, clothes (including maternity clothes), toys and furniture and things for the nursery. There are plenty of special offers and gift ideas.
SMALLable is an online fashion and design concept store dedicated to children, featuring the gems of over 150 designer brands of clothing, furniture, decoration and toys from all over the world.

Children's books, videos and games from Amazon.
IWOOT was launched in 2000 as an online retailer offering a selection of quirky gifts including gadgets, gizmos, toys, photo gifts, experience days and home and office accessories.

IWOOT is an ideal gift shopping solution for those who have everything, a great place to buy things you don't need but are dying to have!
View all 13 Offers
Find hundreds of products in a variety of categories including home & leisure, garden & DIY, audio & electrical, nursery & toys and gifts & jewellery. Additionally Bargain Crazy also offers a clearout zone, gift finder and not forgetting PRICE PLUNGE where the price of selected products reduces over time to as much as 90% off the original retail price. Are we mad? Probably.
Show +

Warehouse Clearance
toucanBox delivers crafty educational activity boxes to children aged 3-8 years old, straight to their door. Winner of the Loved By Parents Award 2014, the products are designed by educational experts to make learning fun and rewarding.
Show +

Treat your little one to a new crafty adventure every 2 weeks ...