The Toy Shop
CATEGORIES
Filters
Shops
A huge range of toys and games for children to support them in learning and developing. FREE click & collect at 5,000+ locations. FREE delivery over £40.

Very nicely designed site - pleasant to use and easy to find what you're looking for.
QD Stores is a major UK discount retail outlet that stock a huge range of quality discount items, from furniture, homewares and electrical goods, to toys, clothing and pet supplies. QD's low profit margin strategy ensures that most items for sale on the QD website are highly price competitive, with very few merchants able to beat them on price.
Show +

Save £4 with £80+ spend
Show +

Save £10 with a £200+ spend
Show +

Save 5% with £300+ spend
Show +

Better than Half Price Furniture Sale
Selections online is a UK based mail order company supplying a wide variety of products.

We specialise in Classic & Opera CDs, DVDs, Videos and Tapes. But also stock a good range Jazz, Nostalgia, Soundtracks and popular titles. For DVDs and videos we also stock a good selections of the latest releases.

The book deparment stocks a wide range of deleted and remainder books covering most subject areas from coffee table books to fiction.

The sheet music department offer a good range of classical sheet music.

The jigsaw department offers jigsaws of varing sizes and topics.

Our Garden department offers quality garden furniture and accessories at affordable prices. All furniture is FSC certified and made to our specifications.

Senior selections offers a carefully research range of products to aid living and mobility, again offering quality products at affordable prices.
Show +

For new customers we're offering £5 off their fir
Samuel Johnston Ltd. is Irelands longest established specialist nursery retailer, boasting over 75 years of experience in the industry. They have two large retail stores in Northern Ireland and a team of highly trained sales staff can offer extensive advice and expert car seat fitting at both locations.
View all 241 Offers
Studio offers the latest fashions, cards and wrap, gifts, toys, household and electrical goods. We also offer hundreds of products that can be personalised at no extra charge, including cards, toys and gifts as well as many clothing items.
TP Toys have been designing children's play equipment for over 50 years. TP offer a huge range of activity toys including Trampolines, Wooden Climbing Frames, Swing Sets, Slides and Playhouses.
Show +

Genius Round Range Trampoline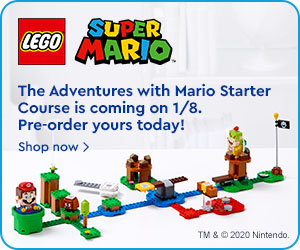 Did you know that The World's Biggest LEGO Shop is at your fingertips? You can purchase direct from The LEGO Group. The online shop is packed with all the newest LEGO sets, exclusive collector's items, LEGO bricks & pieces for individual purchase, PLUS hard-to-find classic LEGO sets!
Winning Moves is the home of the UK's best independent toys and games manufacturer. Owners of the Top Trumps, Pass the Pigs, Waddingtons No. 1 and Lexicon brands and licensed partner of Hasbro developing special editions of Monopoly, Cluedo and more.
Zulily is the number one online boutique for mums, babies and kids. Members can enjoy savings of up to 70% off RRP while they discover unique brands and find quality products at a value. Only members can shop zulily events, but membership is free and signing up is quick and easy.