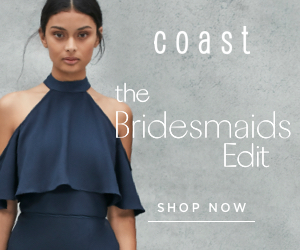 Coast is a niche brand which designs beautiful quality clothing for special occasions, enabling women to receive something special and look and feel fabulous.
Street Address:
House of Fraser, 24 Old Christchurch Road, Bournemouth
Nearest Town:
Bournemouth
Country:
England
Phone:
0844 800 3709
Website:
www.coast-stores.com

Opening Hours:
Friday: 9:00 AM - 5:30 PM
Monday: 9:00 AM - 5:30 PM
Saturday: 9:00 AM - 5:30 PM
Sunday: 10:30 AM - 4:30 PM
Thursday: 9:00 AM - 5:30 PM
Tuesday: 9:00 AM - 5:30 PM
Wednesday: 9:00 AM - 5:30 PM
Map
View all stores in:
Bournemouth
Reviews
Add your own review
Since they began, Coast's philosophy has always remained the same. They're dedicated to creating and providing beautifully designed, quality garments for the special times in your life. Everything they do has that attention to detail, from their in-house designs and the fabric they use to their inspired decor and sales assistants' expertise, so that every shopping experience is a truly special occasion. In recognition of this, the collections have won several prestigious awards from the UK fashion industry and Coast have become one of the UK's most successful occasionwear brands for women.

Similar sites
Comments
comments powered by

Disqus
Found a mistake? Let us know using
this form
or leave a comment above.