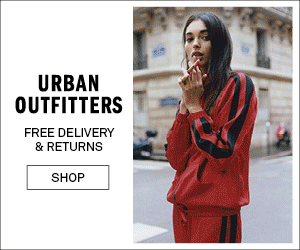 Urban Outfitters stock a mixture of brands and boutique labels for both Women and Men as well as accessories, kitsch homewares, music and novelty items that prove to be popular fun presents and unique gifts appealing to all age groups. The product range also includes eco-friendly clothing made with organic cotton and renewal fashion that has been developed from a mixture of vintage fabrics and styles made to create one off pieces. Womenswear also stocks 'Boutique' - a collection of high end diffusion labels such as See By Chloe, Anglomania, Paul & Joe Sister, Tatty Devine and Luella. Whilst the Menswear range includes sort after brands such as Lyle & Scott, G Star, Penguin, Fred Perry, Nike and many more.
Store is Trading?
Similar Companies
Similar Stores Nearby
Cruise Leicester
Highcross, 8 Highcross Lane, Leicester
Show on Map
irishuk.com
8-14, High Street
Show on Map
River Island
Leicester Highcross
Show on Map
Jellyroll
27, High Street
Show on Map
Quirk
Show on Map
TK Maxx Leicester
3 Humberstone Gate, Leicester
Show on Map
Brides of Bond Street
32, Silver Street, Leicester
Show on Map
Lime
89 Charles Street, Leicester,
Show on Map
Food Hygiene Ratings
Business Name:
Urban Outfitters
Address:
Units 29-30 Highcross, 1 - 2 Shires Walk, Leicester, LE1 4FQ
Date of inspection:
28 August 2019
Business type:
Retailers - other
The rating for this business is made up of the following:
Area inspected by food safety officer
Standards found
Hygienic food handling
Hygienic handling of food including preparation, cooking, re-heating, cooling and storage
Very Good
Cleanliness and condition of facilities and building
Cleanliness and condition of facilities and building (including having appropriate layout, ventilation, hand washing facilities and pest control) to enable good food hygiene
Very Good
Management of food safety
System or checks in place to ensure that food sold or served is safe to eat, evidence that staff know about food safety, and the food safety officer has confidence that standards will be maintained in future.
Very Good
Data supplied by
UK Food Standards Agency
. If we have matched the wrong business, please let us know.
Map
Reviews
Be the first to add a review of Urban Outfitters.
If you would like to be able to edit your review after it is posted, please
log in
first.
Products from Urban Outfitters
View All Products from Urban Outfitters
Related Products on Ebay
Comments
We're currently updating the comments system.
In the meantime, please contact us through our
contact form
if you find an error.