The Garden Centre
Results from Shopping.com
Powered by
CATEGORIES
Filters
Shops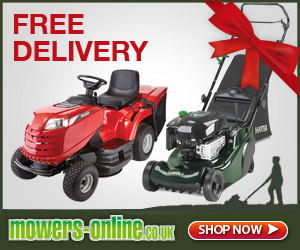 Mowers Online offers over 2,500 quality gardening products for the professional trade user or casual gardener. Some brands are only available online exclusively through Mowers Online so you won't find them anywhere else.
UK Delivery Only
Free UK P&P
Sarah Raven's Kitchen and Garden, sells all Sarah's favourite things for the kitchen and garden including seeds, bulbs, perennial plants, books and kitchenware. Sarah Raven, writer, cook, broadcaster and teacher, is the expert on all things to grow, cut and eat from your garden. All products have been carefully selected by Sarah.
The range includes:
An extensive selection of seeds including packets of vegetable, salad, herb, flowers and foliage, hardy annuals, half-hardy annuals, climbers, biennials and perennials.
A comprehensive bulb list including over 150 varieties.
A selection of perennials - reliable, easy to grow and beautiful.
Cooking, gardening and grow your own books all signed by Sarah Raven.
Garden and kitchen essentials including utensils, tools and home wares.
Online shopping from this high street store.
The Range is a chain of department stores spread around the UK. It has products ranging from DIY, Homewares, Furniture, and Lighting to Arts & Crafts and Garden.
Shop online with this high street store. Over 9,000 products in all sorts of departments. Great prices on furniture, electricals, mobile phones and a huge selection of toys.
UK Delivery Only
Same Day Delivery
Now selling its full range of over 2,500 products online. Wickes is one of the major brands in the building and home improvement market. Whether you're looking for doors, flooring, heating and plumbing or diy tools - it's all available here.
Jersey Plants Direct is a mail-order, bedding-plant nursery based in Jersey selling a full, year-round range of bedding plants, shrubs and bulbs across the UK suitable for any type of gardening, direct to your door.
UK Delivery Only
Free UK P&P
With over 65 years experience as a garden mail order company, Spalding is a long-established, reliable company.

Find a wide selection of bulbs, seeds, indoor plants and plant care.

Now part of the Bakker group of companies.
Show +

Bakker.com Has Connected A 5% Discount To The Affiliate Program
As a UK based business, Domu pride themselves on delivering customer satisfaction and quality products. With over 10 years' experience under their belts, Domu offer an unrivalled choice of creative kitchenware, practical ideas for the home & garden and inspiring gifts from all over the world.
Some Free UK P&P
Visit this site for flower and vegetable seeds, fruit, flowering plants for pots, patios and gardens, plus perennials, shrubs and bulbs.
"We are a long established company who only sell direct to home gardeners through our catalogues, and that's why we can offer such value for money prices."
Seeds from only 49p per packet!
Plants from less than 8p each!
View all 22 Offers