The Food Store
CATEGORIES
Filters
Shops
Thyme's mission is to make it easier to eat better. We aim to make real, honest, slow-food a lot easier, quicker and far more convenient simply by using the freezer.
We freeze. We freeze for freshness and convenience, nothing else.
All our food is prepared and cooked in small batches, just as you would at home, using only ingredients and processes that you would find in a domestic kitchen.
The majority of our products have been developed to be cooked from frozen, usually in the oven, occasionally in the microwave. Each product comes with its own best results cooking instructions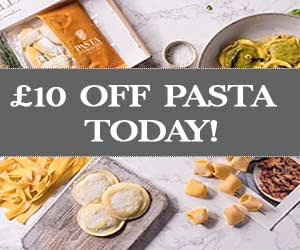 Pasta Evangelists deliver fresh, artisanal pasta dishes every week across the UK. Make 5* dishes at home in 5 minutes & discover the amazing tastes of authentic Italian pasta.
View all 8 Offers
"Why send flowers when you can send biscuits instead?"

Biscuiteers provide beautiful hand crafted biscuits, chocolates and cakes suitable for any celebratory occasion.
Order online from Pizza Hut for collection at your nearest store or delivery to your home - depending on where you live.
Established in 1976, the Japan Centre Food Hall is a well-loved institution situated in Central London with an outpost in Westfield Stratford City. In 2005 Japan Centre Online was launched to bring the store experience to those living outside London and the UK.
Show +

New Tea Subscription Service
Award-winning Scottish butcher meat. Fresh Ayrshire meat delivered across the UK Monday to Saturday.
The UK's largest fully certified organic supermarket, Planet Organic offer organic food delivery across the UK and Europe. From organic veg boxes, fruit, veg, organic wine, health and beauty Planet Organic think carefully about everything they sell so you don't have to.
Gousto - join the food revolution. Choose the recipes you love and get all the ingredients in perfect proportions delivered to your door. Every week, we have a new menu for you to choose from. Simply cook healthy meals with high-quality produce. Gousto is the No 1 Ingredients Delivery Service Voted by The Guardian.
Show +

First box for £12.99 + 30% off all other boxes for the first month
Show +

30% off the 1st month
Virginia Hayward is renowned for offering an extensive range of quality hampers and gifts, featuring the finest food and wines from around the world. Beautifully presented, and designed to suit all budgets, Virginia Hayward's fantastic selection of hampers, champagne, wine and chocolate gifts ensures a gift for all occasions for both men and women.
Pong was created to bring customers in the UK some of the very best cheeses produced by the leading independent and artisan producers, complimented with some classics from Europe.

Pong believe cheese is the greatest gift of all. They sell a large selection of cheese gift selection boxes for the ideal birthday, anniversary, wedding or corporate present.

Each cheese is a little masterpiece of taste and texture and in most cases has a unique and highly skilled process behind its production. From the bizarre looking but phenomenal tasting 'Oxford Blue' to the now legendary 'Stinking Bishop', any of the cheeses available at Pong deserve centre stage.