The Book Shop
CATEGORIES
Filters
Shops
Audible is the destination for digital audio entertainment that you can listen to anytime, anywhere. Over 200,000 titles are available, including digital audio books, audio magazines, newspapers, radio shows and more.

Working across drama, comedy, the arts, current affairs, documentaries, sport, children's, entertainment and more, Audible's original content delivers the highest quality production values across all genres.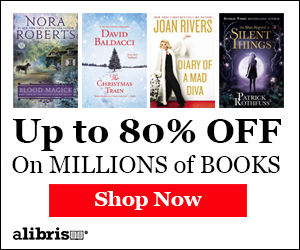 Alibris connects you to thousands of independent book, music, and movie sellers around the world. With over 60 million used, new, rare, and out-of-print titles, they have what you're looking for!
Simply Home Entertainment is an experienced specialist DVD supplier, currently serving over a quarter of a million customers world-wide. Established for over 20 years, they offer a complete range of over 5,000 special interest titles and also specialise in producing original aviation, military and Maritime programming.
View all 9 Offers
The Book Depository is one of the fastest growing booksellers in Europe, shipping to thousands of customers every day throughout the world. They are proud to offer free delivery on every order, to over 100 countries.
Established in 2009 SpeedyHen Ltd has built up a reputation for its quick, reliable service. SpeedyHen Ltd has over 1,000,000 Books, 220,000 eBooks, 170,000 DVD Blu-ray & CD titles. They strive to ensure that their products are competitively priced and available to you from stock.
View all 6 Offers
AwesomeBooks offers a selection of new and used books, CDs, films and games at low prices with free UK shipping.
Founded in 2012, Wordery is one of the world's fastest growing independent book sellers. Wordery offer a great customer experience and we already have over 3 million customers worldwide. Whether it's price, range, search, selection, purchase, security, support or delivery, Wordery's mission is to get your books to you as quickly, safely, securely as possible - and obviously for a great price!
Show +

Get Discounts By Email
Show +

Free Worldwide Delivery on all Orders
The Book People provides a hand picked selection of best-selling books at up to 75% off RRP with free delivery on orders over £25 (worth £3.50).
Show +

Free delivery on all orders over £25
This is the US Amazon site which may have what you're looking for if you're stuck. Note that delivery takes longer and is more expensive.
Pickabook has been selling books online since 1999. It offers over 5 million books from stock, large discounts, fast dispatch, and delivery to addresses worldwide.

As well as books, customers can buy book-related products such as audiobooks, CDs, CD-ROMs, DVDs and videos.