The Art Shop
CATEGORIES
Filters
Shops
Expertly designed prints and posters made just for you in the UK. A great selection of framed print and wall art that can be personalised for all occasions.
Show +

Free Delivery on All Orders ...
Show +

Personalised Gifts ...
Cass Art stock the top brands from around the world, as favoured by the UK's artists. They negotiate directly with all the famous suppliers which is why their prices are as low as they can go.

Cass Art has stores around London.
Show +

Free International Delivery over 50€
Show +

FREE Click & Collect over £10
Etsy is a marketplace where people around the world connect to buy and sell handmade and vintage goods.
Clas Ohlson was founded in 1918 as a mail order business based in Insjön, Dalarna, Sweden. Today,we trade in five countries offering outstanding service via approx. 200 stores and our online store. Clas Ohlson helps its customers solve every day practical small problems with a wide range of affordable products in five product areas: Hardware, Electrical, Home, Multimedia and Leisure.
The Range is a chain of department stores spread around the UK. It has products ranging from DIY, Homewares, Furniture, and Lighting to Arts & Crafts and Garden.
Art republic provides everything the art lover is looking for on the Web, from quality art posters and screen prints to world-wide exhibition reviews, books, travel guides and competitions.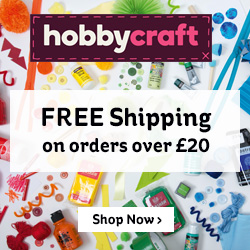 With over 25,000 products and hundreds of exciting and inspirational ideas on our blog, you'll discover everything you need to get crafty. Including...
Sewing Machines and Haberdashery
Art Materials
Knitting
Card Making
Kids' Crafts
Baking
Model Making
Wedding and Party Supplies
Show +

3 for 2 on Selected Knit Brands ...
Show +

Join the Hobbycraft Club and Get 15% Off Your First Purchase
Show +

UK's Largest Arts and Crafts Retailer
Art Gallery is one of the fastest growing sites for original art in the UK. Launched in 2006, they have already signed up some of the hottest artists in the country and their artist portfolio is expanding daily.
Show +

10% off ART for March
Graphic supplies store in Covent Garden. The leading retailer for graphic, art & design products. Choose from over 10,000 items, all available at affordable prices. Shop online now with FREE delivery on orders over £40.
Art supplies - stores in London and also selling by mail order.

Here you'll find the World's finest art materials and equipment at exceptionally low prices. Run by artists for artists, Jackson's are passionate about what they sell and offer consistently high customer service. With over 36,000 fine art supply products, visual artists around the world see Jackson's as their favourite art supplies one stop shop.